Innovative solutions for Real Estate Companies
PropTech is today a very fast-growing sector of the real estate market. The technology improves the processes of valuation and property management but also increases the comfort of property users. We provide innovative solutions based on AI and Big Data.
Automated Valuation
Automated property valuation allows you to accelerate processes and make better and faster decisions.
AI based Apps
Artificial Intelligence is a solution that we use in many industries, but it works extremely well in the real estate sector.
Smart House Apps
Smart House elements today are improvements that customers expect all over the world. Dedicated solutions allow fitting the needs of consumers better.
Business Intelligence
Managing companies in the real estate sector require adequate processing of large data sets. Decision making can be more efficient with the right software.
Free Consultation
We believe that good cooperation must be built on mutual trust. That's why we strongly focus on open communication from the very beginning.
Let's make a short phone or video call, listen to your needs, and advise the best solutions.
Learn about the history of successful cooperation with companies from around the world.
Brotherly Approach
We are brothers and we treat our Team and Clients the same way. We believe that cooperation should be based on mutual trust and understanding of needs.
We provide more than technology support
Even the best technology is useless without a skilled and experienced developer in front of the screen, who knows the methodology backwards and forwards. Why choosing ASPER BROTHERS as your partner for real estate software? There's a number of sound reasons.
Knowledge and Experience
Our development team has more than 10 years of experience building robust and scalable web solutions using the best possible technology and methodologies.
IT talent pool
Based in Warsaw, the Polish capital, we have access to the widest IT talent pool in Europe. No more struggling with finding the right development team for your project!
Outstanding quality
We put particular attention to details, and we'll always make sure that proper tests were performed. Thanks to that, we reduce the chance of mistakes to a minimum.
At the end of the day, the most important is whether your software project has been delivered on time and within the budget. With ASPER BROTHERS, costs are no longer an issue, as you'll get the best value for money on the market.
Polish developers rank TOP 3 on the list of the best programmers worldwide, and ASPER BROTHERS are proud to be a part of this community. Our works are appreciated literally from the USA to Australia. See for yourself!
How does it feel to work with us?

BROTHERLY.

From the very beginning of the project, we focus on mutual understanding and respect. See what our wonderful business partners say about us.
The website is well received by its users and it fulfills all the initial requirements of the project. The admin panel they included has helped save time as well. Consistent updates, prompt bug fixing, and their emphasis on taking care of their customers help make ASPER a top-notch vendor. Their communication is excellent and they really immerse themselves in the job.
Replacing a previous vendor, ASPER BROTHERS quickly demonstrated an in-depth working knowledge of the WordPress platform and its features. Maintaining simple and streamlined communication, they execute feature upgrades and resolve issues to continually improve the website. They challenged our assumptions and completed our goals with the quality we sought.
They've delivered everything they've promised and the work has been perfect. I've never worked with such a reliable team, so we're satisfied. They're reliable, proactive, and eager to produce quality code. When they make mistakes, they're honest. There have been several times where they point out suggestions for us to follow. I was also impressed by their initiative in creating metrics about unit tests, and they also strive to be better than the standard we ask for.
Python
Python is a great language for AI, ML, Deep Learning and NLP software development. It's interactive, encourages modularity, promotes code reuse and is known for an easy to learn syntax that emphasizes readability and boosts speed of development.
Django
This high-level Python framework makes coding faster and safer. Thanks to its pragmatic, clean design and feature richness, it's very popular among both frontend and backend developers. Django is easy to scale, that's why it sits behind plenty of modern software solutions.
JavaScript
JavaScript is the most common frontend programming language and a true ecosystem with plenty of frameworks and libraries. In a nutshell, it makes websites interactive and user engaging. It's a very powerful and robust tool that is a must-have of a modern web app.
React
React is one of the most popular JavaScript libraries, allowing developers and designers to tap into unrivalled UI. With easy to maintain and debug code, as well as its robustness and great community support, it's great to back up your app.
Vue.js
Hard to think of a sexier JavaScript framework than Vue.js. It's progressive, delivering great UI and UX, flexible and at the same time easy to learn and lightweight. With Vue, things are just faster and smoother – both with small and larger projects.
a solid dose of knowledge on AVM and Real Estate technology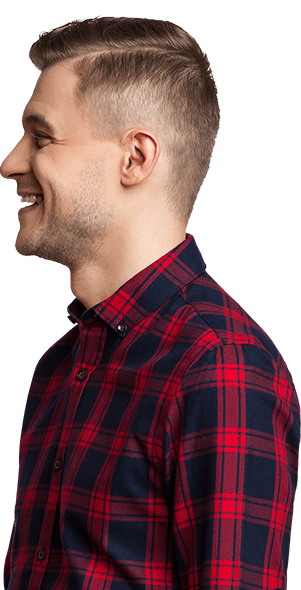 READY
to

SOFTWARE?

If you're still in doubt, we will help you find the answers you need.
Just contact us and let's software together!