Kotlin Development Services
Kotlin language was designed to be a more effective way to make use of Java libraries. In 2019 Google recognized its potential by making it officially the preferred language for Android app development.
Android Apps
Are you thinking of creating a revolutionary Android application? Stop wondering about the technology. All the industry professionals agree it's Kotlin, anyway. Instead, start working on code. You'll be surprised how fast you'll see your app go live. Our android developers are at your service.
Cross-platform Development
Kotlin is an official language for Android development, but it doesn't mean it cannot be used for different platforms. Having its roots in Java, it's perfect for writing code suitable for any device that runs it. This means ANY device.
API & Migration
Our developers can efficiently work with existing Java code and transform it into Kotlin feature by feature. No fuss, no downtime. Or we can prepare a neat API to make your new Android app seamlessly integrate with your other software solutions.
Support & Maintenance
Your Android app is already available in Google Play Store, and you need a team to take care of support and maintenance? Our developers know Android applications inside out. Rest assured that we will catch and fix the bugs before your users start complaining.
Free Consultation
We advise not only on the choice of technology but also business issues and strategies related to new software development.
Let's make a short phone or video call, listen to your needs, and advise the best solutions.
Key Benefits of Using Kotlin
Kotlin is a Google-recommended modern programming language for developing Android apps. But the benefits of using Kotlin do not end there. Kotlin is a proven, mature technology with a helpful community.
Java Compatible
Java was a base for the creation of Kotlin. Those two remain fully interoperable, meaning Kotlin developers can make use of the existing Java code. Since Java was used for many massive and critical software in significant companies, Kotlin compatibility with its older brother reduces the cost and friction of the transition to newer technology.
Less Code
Kotlin started as a way to write more concise Java code. As it matured, it remained as powerful and versatile as Java. And at the same time, it didn't lose its original clarity and conciseness. Readable code translates to faster development and fewer errors. Less code – less time – less errors.
Android App Development
Kotlin Android App Development is a Google preferred way of creating apps for different Android operating system devices. Having one of the Silicon Valley giants' stamps of approval is the best indicator that Kotlin is a powerful programming language suitable for all kinds of software projects.
Community Support
As Kotlin replaced Java programming language as Google endorsed official language for Android app development, the community of software developers started to form around it. There are also major companies that use Kotlin in their products, sharing tips on how to write the best Kotlin code. Software developers creating Android apps with Kotlin can feel fully supported.
Cooperation Models
When it comes to software development, we don't believe in default. We know every project is different, and we believe this is especially true for Android app development. That's why we offer different ways of cooperation.
Staff Augmentation
Sometimes during software projects, everything seems to be planned and working perfectly fine, but at some moments, there is an urgent need for an additional developer. For such a situation, we offer the support of our Android developers. They have experience building real Android apps and can help your team through the most challenging times without losing momentum.
Projects Outsourcing
You have a great Android application idea, but all you can write in Kotlin is "hello world"? No problem at all. We can take it from here and greet the world on your behalf with an app that's far more impressive. We know how to build real Android apps that can satisfy the needs of even the most demanding users. Trust our Kotlin developers with an idea, and we will deliver the product.
Dedicated Team
You know how to navigate software development projects, but you are approaching your first Android app? We can offer you a team of experienced Kotlin software developers that will work under your guidance. There is no need for your internal team to learn Kotlin. Combine our expertise in developing Android apps with your company culture and enjoy the results.
Learn about the history of successful cooperation with companies from around the world.
How does it feel to work with us?

BROTHERLY.

From the very beginning of the project, we focus on mutual understanding and respect.
See what our wonderful business partners say about us.
ASPER BROTHERS worked collaboratively with us throughout our project. The process was really well structured for both non-technical and technical staff and kept us up to date on project progression. It was great to access this much expertise and experience in one place in such a simple way.
They've delivered everything they've promised and the work has been perfect. I've never worked with such a reliable team, so we're satisfied. They're reliable, proactive, and eager to produce quality code. When they make mistakes, they're honest. There have been several times where they point out suggestions for us to follow.
They had an impactful role in lifting our business off the ground. It was a pleasure to work with them. Their company slogan "work like brothers" is true. The owners are both friendly and empathetic.
Kotlin Applications We Build
Just like the Java programming language, Kotlin is one of the most versatile programming languages. Kotlin is fully compatible with the rich Java ecosystem making it a perfect choice for various purposes. Below you can find examples of industries that can benefit from the Kotlin code.
E-commerce
E-commerce is booming, and e-commerce solutions are in very high demand on the market. Kotlin for Android lets you create powerful e-commerce apps for mobile. Top them with a thoughtfully designed user interface and decrease the friction that comes with online shopping.
FinTech
What used to be science fiction not so long ago is happening in front of our eyes. FinTech is revolutionizing the financial industry. The market is still open to new players that can show customers new ways of integrating technology into their finances.
Real Estate
Real estate itself can hardly be digitalized, yet solutions that allow for convenient online interaction between potential buyers and agents are getting more and more popular. Why not add a well-designed Kotlin Android app to the mix?
Video & Entertainment
Smartphones are used for various purposes, but they are undeniably our private entertainment centers. Android platform is a perfect place to go live with a new app for leisure. Whether you want to compete with Netflix or help people meditate, Kotlin is the best programming language for the job.
Healthcare
First, we trusted smartphones with our finances, and the FinTech industry exploded. Now we're beginning to appreciate how technology can help us take care of our health. From wearables to virtual doctor's appointments, Android devices with Kotlin applications are assisting people to take better of themselves.
Education
Changes in the world are reflected in education. People are bound to study and master new skills throughout their entire careers. You can write Android apps to help them with this. From streaming educational videos to learning foreign languages – Android applications can help.
Why ASPER BROTHERS?
Flexible Cooperation Models
At Asper Brothers, we understand that every client and project is different. That's why we offer many cooperation models. We are also ready to go the extra mile to adjust to the needs of our partners. We believe in partnerships based on trust and respect, and we always act with the best interest of our partners in mind.
12 Years of Experience
During the 12 years we've been on the market, and we had the pleasure of working on different projects with different clients. This experience taught us how to approach issues that arise during cooperation and steer away from pitfalls that can be avoided. We are more than happy to share this knowledge with our clients because we believe you can safely learn from others' mistakes.
Talented Software Developers with Strong Communication Skills
We are proud that every Android developer in our team is talented and professional and has excellent communication skills. We put particular emphasis on soft skills because we believe that effective communication is key to any project's success. App development is about writing Kotlin code, but it's also about ensuring the outcome matches the client's expectations.
Technologies Related to Kotlin
JAVA
Java is an origin technology for the Kotlin programming language. Kotlin remains fully compatible with it. It is possible to run Kotlin code on Java Virtual Machine. Kotlin attempts to do the same things Java does but with less code. It's possible to write code that is half Java and half Kotlin.
Flutter
Flutter is a free, open-source UI software development kit created by Google. It can be used as Android SDK and to develop cross-platform applications for iOS, Linux, Mac, and Windows.
SQLite
SQLite is a relational database management system (RDBMS) that is embedded in the app code. It is often used in mobile applications because it's a lightweight and fast solution.
Retrofit
Retrofit is a library allowing statically typed programming languages like Java and Kotlin to be easily translated into HTTP. The use of Retrofit significantly speeds up the work on code needed for API frontend communication.
Dagger
Dagger is a framework for dependency injections. It allows creating better software architecture. The use of Dagger fosters testing that results in fewer errors in real Android apps.
a solid dose of knowledge on mobile app development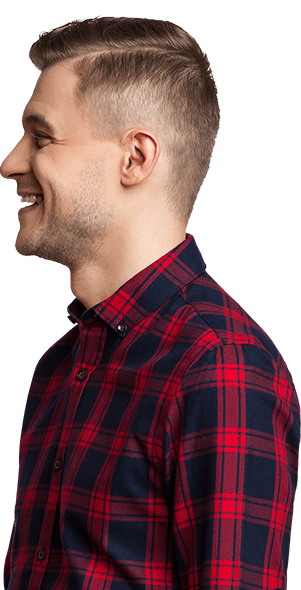 READY
to

SOFTWARE?

If you're still in doubt, we will help you find the answers you need.
Just contact us and let's software together!