VUE.JS.
The up-and-comer of

WEB

frameworks
Vue.js is the JavaScript framework that recently took the world of frontend development by the storm. It significantly facilitates creating unique and pleasurable user interfacesof the web. Vue is known and valued for its scalability, progressiveness, adaptability, versatility and high performance. Vue is a simple, yet powerful solution that can power both simple web pages, as well as sophisticated Single-Page Applications.
The background of frontend star
Vue.js was created back in 2013 by a young Chinese developer, Evan You, who used to work for Google using mostly Angular. Evan was particularly attracted to the web and JavaScript language, and had the idea of building something truly approachable, smooth-working and not stuffed with a lot of concepts. That's how he came up with Vue.js. The new framework was officially released in 2014 and quickly gained grounds. It was upgraded to version 2.0 in 2016, including features such as Server-Side Rendering and Virtual Dom.
Small framework, big impact
Although it is notvery obvious, the choice of the framework for a given project determines the chances of its success and further development later in time. Often, when kicking-off an IT project, customers are not aware that some technologies have certain limitations. It is our job to bring your attention to the fact that a framework has a huge impact on the internal work of the software house.
With this in mind, we highly recommend choosing Vue.js as the framework for your project. Here are the main reasons:
First of all, Vue makes code development easier, and thus faster and cheaper. Its uncomplicated syntax is ideal for building MVP projects and for businesses that evolve quickly.
Secondly, Vue is easily integrable with many backend frameworks. Thanks to that, it is relatively easy to add technology stack, exactly when you need it.
Thirdly, Vue has a great community of developers and even greater number of libraries available. New tools come out even weekly, being reviewed and accepted by the Vue Team.
Moreover, this framework has a magnificent documentation. For many coders, it is one of the best written documentation on the market. And we agree!
In addition, Vue is super flexible. You can start with a small project and grow to more advanced, global solutions. With Vue, it is not a challenge to attach libraries on next stages of development, such as Vue Router, Vuex, Vue-cli project, Vue-Server-Renderer, Vue-loader, Vetur, Vue-Migration-helper and more. The possibilities of Vue ecosystem are vast!
On top of that, Vue is a real open source solution. On the one hand, it is not officially supported by any major global IT corporation, so it is not bound to follow any plans or directions of just one company. On the other hand, large IT players believe in Vue and choose it for their projects, with NASA, Nintendo, Gitlab or Adobe as examples.
Well, with all these benefits, no wonder developers worldwide love to choose Vue.js. In 2016 and 2017 it was consecutively the most starred project on GitHub. Thanks to the popularity of this framework, it is easy to hire and keep Vue.js developers that create dedicated team for IT projects.
Introduction to

FRONTEND

development
Have you ever wondered how a website is built? Well, it involves a number of technologies. From a frontend point of view, a HTML is needed for general structuring. A CSS is necessary for styling. JavaScript is responsible for the logic of the website – and in today's world,
it has a lot of other tasks as well.
As JavaScript contains plenty of functionality that improves interaction with users and overall behaviour, it is employed more and more in modern frontend development. Almost everything related to animations, the layer of data presentation and user interface can be successfully based on JavaScript. And that's when Vue.js comes in handy!
CREATIVE and user-FRIENDLY frontend
thanks to the use of VUE.JS
We use Vue to build construction elements of web apps and websites, like for example the webforms, instant searches, data tables, navigation elements, editors' area and much, much more. But there's even more in Vue than 'just' facilitating websites and web apps development! It is also a great base of large, robust applications, such as:
And literally any other custom services
All these endless possibilities and tangible benefits related to using Vue.js in custom software development make us really believe in this framework. We feel Vue is the way to go and we are happy to present you results of how it can grant you competitive advantage.
LET'S TALK like BROTHERS
From the first contact to fully developed and working software, we will share info with you to make sure everything is clear at every stage of the project.
The website is well received by its users and it fulfills all the initial requirements of the project. The admin panel they included has helped save time as well. Consistent updates, prompt bug fixing, and their emphasis on taking care of their customers help make ASPER a top-notch vendor. Their communication is excellent and they really immerse themselves in the job.
Our experience with ASPER has been priceless. The app patched many project management issues by improving document security and minimizing downtime. ASPER's reliance on feedback, jargon-free communication, and transparency contributed to a beneficial partnership.
Replacing a previous vendor, ASPER BROTHERS quickly demonstrated an in-depth working knowledge of the WordPress platform and its features. Maintaining simple and streamlined communication, they execute feature upgrades and resolve issues to continually improve the website. They challenged our assumptions and completed our goals with the quality we sought.
Vue.js POLISH DEVELOPMENT TEAM with open mind and EXPERIENCE
WHAT
makes us feel

SO ENTHUSIASTIC

about services based on Vue?
In fact, we love delivering projects as fast and as smooth as possible. And Vue is perfect for that! Regardless it is a pure SPA or a backend-great to use tools that facilitate the job. Vue is light, not intrusive, doesn't require specific set of tools and really gets along well with HTML. What's also great in Vue, is the ability to deliver MVP in no time. Due to this, you can quickly check your idea with early adopters, present your solutions to the market as soon as possible and verify your business assumptions painlessly.
Vue is

THE

framework.


ASPER BROTHERS

are the Vue developers.
As we believe Vue.js is the future of frontend development, we have built a team of the best polish Vue programmers, who share our passion. Our combined knowledge and experience ensures smooth onboarding, quick kick-off and satisfying results. And it concerns both small and large IT projects, tailored to your needs. The flexibility and scalability of Vue makes is fit for any size of dev challenge! We always strongly advice our customers to give this technology a shot and trust us – it never turned bad. Especially, with our expert team consulting at every stage of the project.
We put particular stress on clear communication, favoured by Agile approach. This helps our partners to understand where the project is, where is it heading to and to hard-proof whether it is on track. For us, clear communication extends also on clear conditions of our cooperation. We are open for any type of contract and are always happy to explain any intricacies. Asper Brothers will expertly guide you through the negotiation and development process and take care about any arising issues.
jQuery
jQuery is another JavaScript library, full of features and well-performing, despite lightweight. Its purpose is to facilitate using JavaScript on the website. With an easy-to-use API and swift event handling, animations and a variety of plugins available, jQuery favours the 'write less, do more' attitude.
Angular
If you want to make frontend development of custom web applications easier, then Angular is the way to go. Maintained by Google, Angular extends HTML with a number of new attributes, making in perfect for Single-Page Applications and dynamic web apps. Thanks to Angular, the amount of JavaScript code is limited to minimum.
Bootstrap
Bootstrap is an open source framework that significantly speeds up frontend development. It is easy to use with (basic knowledge of HTML and CSS is enough to kick-start), has great responsive features (adapts to different sizes of screens), is compatible with any browser and supports the mobile-first approach.
CSS 3
Cascading Style Sheets is a frontend programming language that is used to describe styles of HTML document. In general, it tells the browser how static HTML elements should be displayed. Thanks to CSS, we can cut the time and cost of development, reducing mundane HTML coding to the necessary minimum.
HTML 5
Who did not hear about HTML? It's the building block of the Internet, being the very basis of every website in the world. It describes what a web page should look like using mark-ups. Nevertheless, you can only code static pages in HTML, that's why it must go hand-in-hand with CSS and JavaScript.
Laravel
If you are looking for an artisan-style website development, then expect your dedicated team to use Laravel. It is a modern toolkit for backend PHP programming, that facilitates building robust web applications by bringing the benefits related to simple, elegant syntax and combined with a lot of built-in solutions.
WE HELPED THEM
Behind every software, there's a person and a story
our POLISH OFFICE
Our office is located in the very centre of Warsaw, just opposite the Palace of Culture and Science. Just as it is easy to find us, the cooperation with us looks so smooth and pleasant.
As a Polish software house we have access to some of the best programmers in the world. That's why the software we provide is so unique.
Jana Pankiewicza 1/3
00-696 Warsaw, Poland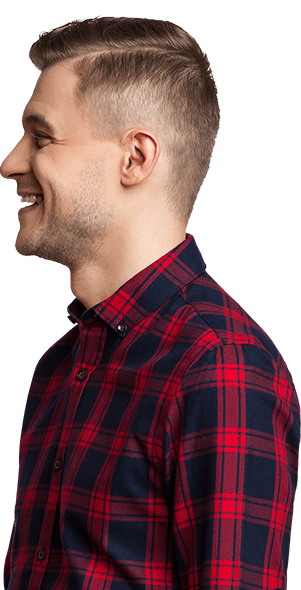 READY
to

SOFTWARE?

If you're still in doubt, we will help you find the answers you need.
Just contact us and let's software together!