BrandSnag
Social Media Name Checker
20
Platform to name checking
COUNTRY

Canada

MAIN TECHNOLOGY

JavaScript

OTHER TECHNOLOGIES

Python, Nuxt js, Laravel
The Challenge
When creating a new website or embarking on a journey with publishing on social media, usually choosing the online name is the first step to take. But it's challenging to come up with a name that is creative, unique, and – what's most important – available on chosen platforms.
That's exactly the challenge that creative Canadian digital marketing experts at BrandSnag wanted to solve. They are on a mission to support everyday entrepreneurs and social media mavens worldwide by creating just the right online identity for their products, services, and personality. For this to happen, they decided to develop a tool that would help research, compare and choose the optional online name that simply stands out in the digital crowd.
In order to reach that goal, BrandSnag was looking for a software development partner to build the MVP version of the website, build a Content Management System with an AI-driven business name generator, and introduce User Interface and User Experience improvements related to a complete brand redesign.
Core challenges were connected to finding the most efficient and effective way of checking the availability of given names on different social media – especially bearing in mind that each platform has its unique method of communication and internal API. It was also crucial to build an AI-powered tool to suggest relevant alternatives if the name was taken. Another demanding task was related to building original landing pages in the frontend app, that would be as personalized and as custom as possible.
How it Works
BrandSnag tool has a form of a website allowing the user to check for domain and social media username availability, generate business names and learn tips on how to name a business in a unique, original way that fits the user best.
Once a user inputs his name into the search box, BrandSnag runs a series of checks, including different domains, YouTube, Facebook, Twitter, Instagram, TikTok, Pinterest, Reddit, Snapchat, Spotify, Patreon, Etsy, and Twitch to verify its availability. If a name is already taken, the portal provides users with a set of creative alternatives with tips and tricks to pick a name relating to the personality, brand, and goals of the user, based on their initial input.
What is more, BrandSnag allows users to create new and modify existing landing pages using an intuitive CMS solution. Since the main goal of this feature was to make these pages as customizable and personalized as possible, with BrandSnag's CMS users are able to leverage preset modules and content to create endless unique pages supporting their business and social media presence.
Design & UX
BrandSnag is a project in which the most important thing is a clear display of information divided into categories. Therefore, the whole design is kept in light, bright colors, where the searched information is clearly visible. The project was prepared in Figma software, thanks to which the whole ASPER team and the client's team could react and add their comments to the project.
The design uses a very clear Sora font. Minimal use of illustrations and graphics allows exposing the content layer. Shades of blue as the color of business and trust give a professional touch to the design. The designers decided to use Flat Design, which is great for this type of web service and is very clear on mobile devices.
The Technology
When it comes to the technical side of the project, ASPER BROTHERS covered the design, development, and deployment aspects. A development team consisted of 3 software developers, an AI specialist, a Project Manager, a Designer, DevOps engineers, and a CTO, who was overseeing the whole operation.
Since BrandSnag preferred us to suggest the most relevant tech stack, we used JavaScript (Typescript) with PHP (Laravel framework), Vue.js (and Nuxt.js framework), and Python to develop the solution. We chose MySQL as a relational database management system. Also, we integrated the tool with Getform to build online forms and trigger auto-response emails, with Strapi to deliver the flawless CMS experience, and with Checkmarks to validate the availability of social media logins and names in real-time.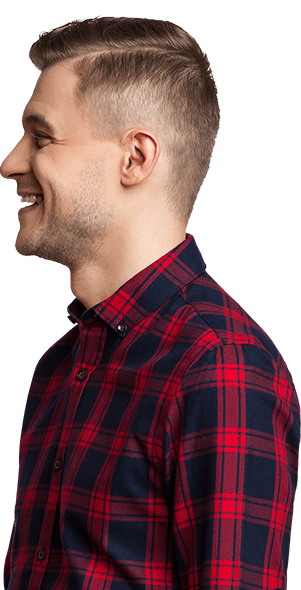 READY
to

SOFTWARE?

If you're still in doubt, we will help you find the answers you need.
Just contact us and let's software together!