Untangle
Communication App for Health Care
15
Daily meetings with the client
COUNTRY

UK

INDUSTRY

Healthcare

PEOPLE INVOLVED

5
The Challenge
The customer approached us with an idea for adding some new features for internal use to their app that helps people suffering bereavement through emotional loss and practical steps.
What started as a project estimation and functionality consultations quickly moved to actual delivery and then the maintenance of the internal application and an admin panel.
The biggest challenge was related to meeting customer requirements whilst operating within a limited environment of third party services and API integrations.
How it works
Untangle supports its users with a variety of services – from finding the right therapist to managing late bills and writing Wills. In order to do that, they use an application that facilitates linking users suffering bereavement with relevant connections.
Whether it's a trusted expert, a therapist, life coach, lawyer, financial advisor, or a matcher peer support group with people sharing similar experiences, the Untangle app is there to build just the right bridge.
Our goal was to build an application and an admin panel for internal use, that will facilitate employee-user communication. Its core functionality is focused on managing user permission levels and creating groups of users. There's also a chat feature included.
Design & UX
The Untangle project is based on simplicity. It has a very elementary layout based on a chat view, and the elements are very clean.
The app has specific illustrations following its logo style, and every picture is a handmade drawing.
The colors are based on three groups, two primary colors, and a list of secondary colors. The two primary colors are blue and orange with different hues, while the second group has the other four colors used for details.
The app uses a font family Karla with several variants (bold, text, and regular) for the titles and the relevant parts. In contrast, for the ordinary body content, it uses the font Sen regular.
The main challenge was to build and merge all the functionalities in one place and the idea to keep all in one classic chat page. The layout is more recognizable for users who usually use similar apps on a mobile phone like WhatsApp or messenger.
The technology
JavaScript and HTML were used to create a nice-looking interface, offload the server and widen user experience. With React, building the user interface and other UI components was even easier and more efficient.
Sendbird is a great software development kit that we used to integrate messaging. With its chat API, native Chat SDKs, and a variety of other useful tools and features, it provides a modern chat messaging experience.
Firebase is a Google-powered, Backend-as-a-Service, NoSQL tool that developers use to facilitate building quality apps. As it uses Google's infrastructure, it scales automatically, even in the case of larger apps.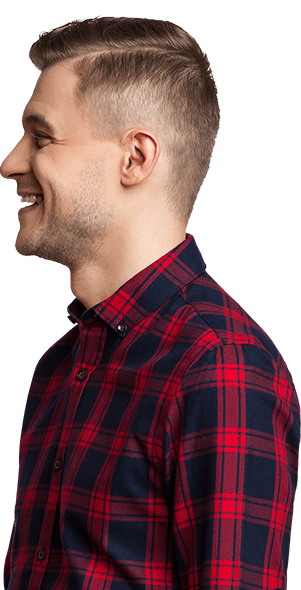 READY
to

SOFTWARE?

If you're still in doubt, we will help you find the answers you need.
Just contact us and let's software together!