Android Mobile App Development Services
We provide comprehensive, A-Z services that result in developing custom, beautiful, functional and robust Android mobile apps.
Custom Android App Development
We appreciate that every project is different. That's why with us, there's no 'one size fits it all' approach. Our mobile app development services are always bespoke and tailor-made to the current mobile strategy of our partners.
UX/UI Design
Customer satisfaction and engagement, plus unrivalled user experience combined with a clean user interface, are all must-haves in today's mobile development. We know how to design and deliver a mobile app to increase satisfaction, boost conversion and directly impact the bottom line.
Integration & Migration
The Android Operating System is constantly evolving. Mobile app developers need to ensure that their engaging mobile apps are compatible with different system versions and integrated with other relevant features to make the most of currently available technologies.
Support & Maintenance
Work on successful Android apps does not end with the release date. Professional mobile app development services include ongoing support and maintenance of a ready solution that gets rid of bugs, adds new features and optimizes the efficiency of the application.
Free Consultation
We advise not only on the choice of technology but also business issues and strategy related to new software development.
Let's make a short phone or video call, listen to your needs, and advise the best solutions.
We create applications dedicated to Android devices
There are more than 2.5 billion devices that are based on Android Operating Systems.
Android app developers at ASPER BROTHERS know how to crack them all!
Android Phones
Android is optimized for the way you use your smartphone, really getting to what's important with using a modern device. It allows you to access everything in one place, multitask, capture and share content, and take care of your data privacy and security.
Android Tablets
If you're looking for solid performance combined with a high-resolution not limited to screen size, then Android tablets are a great solution. Watching videos, browsing the web, working, reading, playing engaging mobile games, e-learning – there's plenty of use cases when tablets come in handy.
Android TV
Today even TVs can be smart. With Android TV Operating System, you can take your television set, digital media player or even a soundbar to the next level by streaming apps, playing music or games, as well as casting and controlling the screen from multiple devices. It's just a better way to enjoy the entertainment we all love.
Learn about the history of successful cooperation with companies from around the world.
The business benefits of developing a native Android application
The Android Operating System is fast, flexible, reliable and compatible with almost 80% of the world's mobile devices. No wonder including it in the mobile strategy of your business is a recipe for success.
Faster development
A good android app development company will make you see the results of their work fast. That's because, unlike other mobile platforms, Android is very robust and fast in software development. It's an open-source technology and has a huge, helpful and engaged community behind it that delivers plenty of ready-made solutions that can be swiftly and cost-effectively implemented during mobile app development.
A large pool of users to tap into
One of the biggest benefits of including Android app development services in your go-to-market strategy is related to the huge number of users who enjoy the platform daily. Android-based devices are the most popular globally, covering almost 73% of the market, and there are more than 2,5 billion Android users out there that can be targeted with your custom mobile app. These numbers speak for themselves!
Unrivalled user experience
Compared to other mobile platforms, Android offers one of the best user experiences out there – it's a fact you can't deny. A native mobile application will always outperform a Progressive Web Application or even a cross-platform mobile app – both when it comes to the number of features available and the overall user-friendliness and the feel of the application.
The benefits of the Google ecosystem
Android is developed by Google itself and leveraging that brings solid business benefits. Applications within the Google ecosystem follow the user regardless of the device they are using. That allows one to monitor and analyse more data to make well-informed business decisions and enhances user experience by making the app truly multiplatform. No other mobile OS is as immersive as Android is!
How does it feel to work with us?

BROTHERLY.

From the very beginning of the project, we focus on mutual understanding and respect.

See what our wonderful business partners say about us.
ASPER BROTHERS worked collaboratively with us throughout our project. The process was really well structured for both non-technical and technical staff and kept us up to date on project progression. It was great to access this much expertise and experience in one place in such a simple way.
Consistent updates and their emphasis on taking care of their customers help make ASPER a top-notch vendor. Their communication is excellent and they really immerse themselves in the job.
The team delivered a great application that's lightweight and fast. We didn't have to waste time pitching ideas back and forth. They built what we requested and added their expertise when applicable.
The industries that benefit from Android mobile app development
Whether you are a fintech, a care clinic, a university or a streaming service – businesses in almost every industry can benefit from working with a mobile app development company.
Ecommerce
Top app development companies know how to deliver mobile and web apps that boost engagement needed to drive success in this industry. Today in e-commerce development, mobile-first is the way to go, especially if you aim for a mobile app that will have a simple registration process, support multiple payment options, include social networking integrations and complete synchronization with the website to boost time-to-market. Not to mention analytics, surveys, rankings or simple checkouts. That's what modern mobile e-commerce development is all about.
FinTech
When building top fintech web and mobile solutions, it's worth bringing some of the best android development companies on board. It's valuable not only from the project management or web design point of view but this approach also considers crucial success factors such as user experience, data security, performance, scalability or integrations. Do bear in mind that the fintech revolution is, on the one hand, all about funky innovation such as artificial intelligence. Still, on the other, it's about basics such as customer engagement via the mobile-first approach to development.
Real Estate
It has never been easier to sell, buy or rent a house – all thanks to hundreds of real estate web and mobile solutions and developed apps that facilitate the whole process. They come with neat features such as a transparent portfolio with centralized data, including access to all documents in one location and with management software on top. Good mobile app development companies can take real estate sales through the roof!
Video & Entertainment
Android app developers can create miracles when turning a smartphone into a mobile gadget serving leisure purposes. A mobile phone is way more than just a device used for making phone calls. Android apps can transfer a phone into a platform of fun and exciting entertainment and video streaming services, enhanced by artificial intelligence suggesting personalised content. Android development services really can take video and entertainment to another level.
Healthcare
Mobile took healthcare by storm, changing not only the way we take care of our health and how patients communicate with doctors but also increased the productivity of hospitals and medical staff and added a layer of data analytics and AI tools to facilitate diagnosis. Not to mention the state of wearable app development! Did you know that currently, there are almost 350 thousand health-related mobile apps on different application marketplaces?
Education
The COVID-19 pandemic significantly changed the way we look at remote studying, and the best Android app developers contribute to making this trend gain ground. It is very convenient to learn new things at home, for both children and adults. What is more, thanks to good mobile and web design or artificial intelligence, mobile-first studying can be really entertaining. Pandemic changed the way we develop digital business solutions, and that includes studying too.
Android app development process - How We Work
Every mobile app development company should have a process that ensures the efficiency and quality of custom mobile apps they deliver. Take a look at how ASPER BROTHERS run it!
Workshops
It is always beneficial to kick-start a project with workshops that define it on a high level, both tech- and concept-wise. This part of the work translates into the best ROI. Based on the details provided by the customer, we can suggest the best possible solution to a given business need. As a result, the project is on the right track from the first day.
Design UX/UI
Best Android mobile apps are the ones loved by the users. At the end of the day, the most crucial business KPI is churn and customer attrition rates. These can be achieved with an app development firm designing mobile and web applications with user experience and user interface in mind. At ASPER BROTHERS, we appreciate how important proper mobile app designing is!
MVP
The thing with mobile applications and digital business solutions, in general, is that they tend to evolve. Also, often the business assumptions of stakeholders are verified by end-users which makes tweaks necessary. If you start with a Minimum Viable Product, it is possible to quickly gather feedback and leverage custom software development to deliver an android app that the market actually needs.
Android App Development
After gathering requirements during workshops, designing UX/UI for the custom mobile app development and building an MVP, the actual coding takes place, which engineers of any Android app development company love. As a result, Android apps are built that facilitate digital transformation and impact the bottom line.
Launching & Maintenance
Time to go live! But the job of a mobile app development company does not end here. Post-launch maintenance must be taken care of to keep your entire Android mobile app running smoothly and efficiently. There might be bugs. There might be new features to add. There might be some optimizations to implement – our Android application developers are there for you to support your business.
Why ASPER BROTHERS?
We add value in no-time
When it comes to mobile app development, we focus on bringing as much value as soon as possible. Our Android application developers run conceptual workshops, prototype, build MVPs – everything to quickly validate business concepts and deliver a fully-fledged, working mobile app that translates into business results.
Flexible cooperation models
We believe that a custom software development company must include the 'custom' element in the code they produce and the cooperation models they introduce. We can both comprehensively take care of your project from A to Z, as well as provide simpler staff augmentation services or other outsourcing-related models. We're here to adapt to your needs, not the other way around.
International development environment
Just like our skills and experience, our team is versatile and all-round. Our Android app developers are from Poland, the UK, the US and Italy. Being so multicultural and international surely broadens the horizons and allows us to look at business and technological challenges from different perspectives. That makes web and mobile development more functional and efficient in different contexts.
12 Years of experience
With over a dozen years on the market and hundreds of successful custom software development projects (both web and mobile), our mobile app developers have gathered significant and relevant know-how and learned enough lessons to implement only the best practices in our next Android mobile app development process. And that's for your benefit!
Technologies related to Android app development
Java
This server-side language that sits behind most back-end web and mobile solutions date back to the nineties. It is a general-purpose, simple and efficient language known for being fast, reliable and secure. Java is commonly used by top Android app developers to build great and scalable apps.
Kotlin
Kotlin is known as the pragmatic language, initially designed for the Java Virtual Machine. It is both object-oriented and functional when it comes to programming features. Kotlin is safe, clear, comes with great support and has a friendly and helpful community that's handy with Android application development.
SQLite
SQLite is a relational database management system in the form of a C library. It's not client-side but rather embedded into the end apps. It is self-contained, reliable, and has many nifty features that best app development companies employ during Android development services.
RetroFit
Retrofit is a type-safe REST client for Java, Kotlin and Android developed by Square. It is a library that provides powerful features related to data serialization, authentication, interaction with APIs and sending network requests. Plenty of Android apps leverage RetroFit behind the scenes.
Dagger2
This framework for Java, Kotlin and Android is used for dependency injection. It is fully static and produces results that are easy to understand in the way they obtain references and transfer them to dependencies and objects. Dagger is used by almost every Android apps development company as it significantly reduces the boilerplate code needed to inject objects into the mobile app.
a solid dose of knowledge on mobile technologies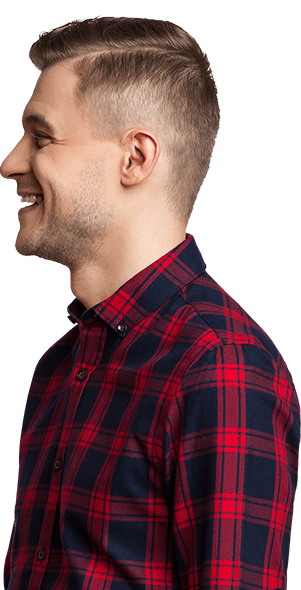 READY
to

SOFTWARE?

If you're still in doubt, we will help you find the answers you need.
Just contact us and let's software together!