Technology Consulting
In today's world, no business can get by without technology services. The right choice of software and its wise implementation can significantly contribute to business success and help prepare the company for rapid growth. Knowledge management and automation can free up resources and provide invaluable insights about the industry, market, and clients.

Consulting & Advisory Services
So you decided you are ready for the business transformation but still need to figure out how to approach this process? We've got your back. Our technology consulting will help you determine how to align the technology strategy with your business goals.

Tech Transformation
Integrating new technologies with existing businesses is a challenging process. Tech transformation can create enormous business value but requires innovation in operations, processes, and managed services. Our technology consultants make sure that everyone is on board and that the entire business transformation process goes smoothly.

Tech Projects Management
Keep your focus on things that matter to your business, and let us take care of tech project management. Technology consulting is about allowing businesses to leverage technology while taking the burden of actual management off their shoulders. You know your business. And we know technology.

Software Development
Not every business can make use of currently available software platforms. In such cases, we are ready to cater to the specific needs of our clients and create custom software solutions from scratch. Building dedicated software lays the perfect foundation for future development and increases business market value.
Zero-Cost Evaluation
We provide counsel not only on selecting appropriate technology but also on business strategies and issues tied to software development.
Let's arrange a brief phone or video consultation. You tell us your requirements, and we recommend the most effective solutions.
Our Technology Advisors are ready to assist with:
You may ask yourself: why technology consulting services? Should I be interested? Would my business infrastructure even benefit from hiring a technology consultant? Is my business big enough for an elaborate corporate strategy? See our examples below and decide for yourself.
Tech Startup Development
Tech startups are usually explicitly advised to hire technology consultants. They know how to set up business processes and introduce proper risk management strategies and cost optimization practices. An experienced technology consultant can balance innovation and technology spending with the organization's business goals and resources.
Software Security and Quality Audits
In the era of FinTech and MedTech, software quality and security are critical factors. Hiring an external technology consultant to conduct proper audits is the best way to ensure nothing is overlooked. Protecting customers' data should always stay in focus in every organization.
IT Strategy Consulting
When investing in digital transformation, companies must make long-term strategic decisions. Hiring a technology consultant to advise what technology should be implemented and which already managed services to keep is a wise move. It's a way of fostering growth and efficiency without generating high costs, a much better alternative to blindly following the trends of cloud computing and artificial intelligence.
Software Systems Design and Implementation
Having an in-house CTO means the need to budget CTO salaries. It's like an office rent – another position on the list of long-term contracts. With an outsourced CTO, you can use CTO services when you need them and pay accordingly. You get the business support you need but without the long-term commitment.
Consulting & Development
Consulting and development may seem like two completely different areas. Yet, technology consulting services identify problems and goals within an organization and suggest appropriate solutions. Sometimes it's best to implement software made by one of the market leaders. In other instances, companies need more innovation and custom-made software. Our technology consultants know their way within both of those fields.
Consulting
Using technology is a must for every business. The abundance of B2B software products requires skills and deep knowledge of the pros and cons of every solution. Technology consulting services help organizations develop a technology strategy and decide on the software that solves problems instead of creating new ones. Technology consulting provides the support necessary to make complex decisions impacting entire organizations.
Development
What if the already available technology is not suited to the company's needs? Some industries require their systems to have unique capabilities. In such cases, our technology team is ready to design and implement custom-made solutions. We do not limit ourselves to collecting data and recognizing needs and areas for improvement. Our team can pass their knowledge on to engineers that will create solutions ideally suited to the client's needs.
Learn about the history of successful cooperation with companies from around the world.
How does it feel working with us?

BROTHERLY.

From the very beginning of the project, we focus on mutual understanding and respect.
See what our wonderful business partners say about us.
Consistent updates and their emphasis on taking care of their customers help make ASPER a top-notch vendor. Their communication is excellent and they really immerse themselves in the job.
They had an impactful role in lifting our business off the ground. It was a pleasure to work with them. Their company slogan "work like brothers" is true. The owners are both friendly and empathetic.
The team delivered a great application that's lightweight and fast. We didn't have to waste time pitching ideas back and forth. They built what we requested and added their expertise when applicable.
Areas of expertise
Companies in every industry can benefit from innovation strategies that bring increased efficiency. The ones listed below are just examples of those we have the most experience with.
Retail & Ecommerce
Recent years have witnessed a true boom in the field of e-commerce. Retail online presence is no longer an option; it's a must. Technology consulting can help your business choose the right services and providers to bootstrap new revenue streams. This could involve implementing new services, developing a mobile app, or leveraging data analytics combined with artificial intelligence to gain insights into customer behavior. Implementing cutting-edge technologies in the e-commerce industry has a rapid impact on profitability growth.
Real Estate
Real estate is an industry that has yet to discover the full potential of utilizing tech. Automating mundane tasks or having artificial intelligence assist in some of them can significantly increase work efficiency. This could involve implementing a new property management system, developing a mobile app for property listings, or building an Automated Valuation Model to determine property value. Technology lets people focus on what's most important – building trust and human connections.
Automotive
Since its inception, the automotive industry has been home to innovative solutions. Today, this is still the case. It is not easy to gain a competitive advantage in such an industry, and that is why an outside technology consultant can provide invaluable perspective and suggest solutions an insider would have difficulty coming up with. In the automotive industry, technology consultants can help businesses leverage technology to enhance manufacturing processes, improve supply chain management, and deliver better customer services.
Fintech
FinTech is taking the world by storm. The banking industry has been one of the most old-fashioned and traditional for a very long time, which is precisely why the innovation brought around by merging finance and technology makes fintech one of the fastest-growing and most promising technological sectors. A good growth strategy could involve implementing a new payment processing system, developing a mobile banking app, or leveraging blockchain technology for secure transactions.
Education
Education is among those industries that are the most significant to our society as it fundamentally shapes the world's future. Figuring out a way to use emerging technologies to foster the learning process, then, is bound to bring considerable profit. Our consultants are ready to help you find the right solutions to implement even the boldest ideas. A new learning management system, an educational app, or leveraging data analytics to track student performance – you name it.
Professional Services
Professional services are not commonly associated with innovation. Imagine what competitive advantage you can get by utilizing cutting-edge technical solutions. An effective technology strategy could involve implementing a new project management system, upgrading the IT infrastructure, or leveraging cloud-stored data for enhanced collaboration. Become a leader in your industry and beat other businesses with a fresh strategy. Provide value to your clients with less effort and time.
Why Asper Brothers?
14 Years of International Experience
We have over 14 years of experience implementing solutions for tech companies from around the world. We know our way around various challenges, have experience aligning business goals with specific strategies, and automating processes within various industries. Our technology consulting services are focused on delivering profound business value to various environments.
Experienced Team of Managers and Engineers
Our team at Asper Brothers consists of experienced managers and engineers. In our ranks, we also have ex-founders and business owners who joined us to have an outlet for sharing their expertise. We understand the business infrastructure and technology challenges well. Before suggesting anything, we consider a range of factors, and we always make sure to approach them from a set of different perspectives.
Complete Services – From Design to Support
We support our customers at every step of the process: from initial audits through strategy development and implementation to post-implementation support and consulting services. With our experience, we know just when to suggest ready-made solutions and when to advocate for custom-made systems and services. Our technology strategy is balanced to best suit the long- and short-term goals of organizations and always prioritize their growth.
We share our expertise in digital product development
to help you overcome challenges and rise to new heights.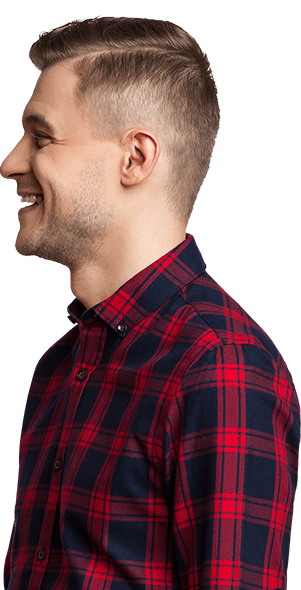 READY
to

SOFTWARE?

If you're still in doubt, we will help you find the answers you need.
Just contact us and let's software together!