Web Development Services
Web technologies are an ocean of possibilities. Our job is not only to create a unique digital product. We try to give more – we advise at every stage, create prototypes, analyze the market, and participate in developing our client's vision.
Custom Web Software & Apps
Bespoke web software development company comes in handy every time when off-the-shelf is not an option. With tailor-made IT services suited to your needs, there are virtually no limits for our web developers in terms of website design and development.
UI/UX Design
Application development is one thing, but creating a modern web design, intuitive interface and experience your users will love is art in itself. Luckily, our team of top web design experts know how to boost conversion rates of software solutions with proper graphic design.
MVP Development
Both web and mobile, both big and small business – all clients can benefit from the concept of Minimum Viable Product. Act fast, build only what's needed, quickly verify assumptions to gather market feedback and reiterate – that's what web development companies are best in.
Cross-Platform Apps
Our web development company has a track record of success stories with building web apps that work across different platforms. Cross-platform application development is a great way of search engine optimization and business strategy.
Free Consultation
We believe that good cooperation must be built on mutual trust. That's why we strongly focus on open communication from the very beginning.
Let's make a short phone or video call, listen to your needs, and advise the best solutions.
Web Development Process – How We Work
As a web development company at ASPER BROTHERS, we design and follow a strategic process that's key to aligning business and technology. See how it works at our company.
Business Analysis and Early Stage Consultancy
Expert business and IT consultancy are crucial, especially when you embark on a web development company journey. We're happy to share insights and experience gathered throughout numerous IT projects. Our team of Business Analysts, engineers and UI/UX designers know how to plan for a digital product and web development roadmap, which web technologies should you choose and suggest the best solutions in given circumstances, both marketing-, tech- and business-wise.
UX/UI Design
As one of the top web development firms, our team understands the value of good web design. With a focus on usability in mind, we create mockups, visualize conceptions, discuss and advise on key functionalities, and present them in interactive prototypes. As a software development agency, we map and predict users' behaviours at the early stage of designing a visual conception. Thus, we can understand potential UI/UX risks and stay on top of them – both when it comes to desktop view and web mobile app development.
MVP Software Development
Digital products are all about being agile and finding the right fit for web and mobile solutions. Here's where MVP comes in handy, where before the release of the final version, a team of web developers can design and deploy a version of the solution with only the most necessary features. This approach allows the business to confront the assumptions with the market, quickly gather feedback and understand the expectations of stakeholders and end-users.
Frontend and Backend Development
Our web development team is comprised of engineers who are highly qualified frontend and backend software developers. We are experienced in both web designing as well as strategy, business consulting and custom software development. Thanks to this extensive know-how, we can design, build and maintain website solutions in a comprehensive way, from front end to back end development.
DevOps and Maintenance
From day 0, through consultancy, IT project kick-off, scaling it, up to support and maintenance of a well-functioning tool – as an end-to-end web development agency, we have what it takes to provide a comprehensive solution. For that sake, we use the most modern DevOps methodologies and CI/CD approaches that allow our clients to benefit from top-notch website design and development.
Learn about the history of successful cooperation with companies from around the world.
Industries We Work With
Over 10 years of experience has shown us that each industry is different and requires an individual approach. Working with companies from many sectors, we have learned the specifics of many markets. Thanks to that, we can share our knowledge and support our clients in developing their digital products.
Real Estate
In a constantly changing environment of PropTech, modern companies must include development services that would fit business strategy. Our team can leverage artificial intelligence, automation and top web development that support management and sales in the industry.
Ecommerce
The online shopping market during the pandemic went through the roof and only continues to gain ground. Custom software development, focus on website design, UI/UX, mobile app development, integrations, and top web development are what takes this business to the next level.
FinTech
Both large incumbent financial institutions, as well as disruptive fintech startups, rely on web development services. Speed, security, integrations, leveraging data, increasing customer experience with AI – our web development company provides all that and much more.
Automotive
Top web development companies often work with the automotive industry to improve business processes related to manufacturing or transportation using artificial intelligence or Big Data. Software development for web and mobile platforms helps to create cutting-edge engineering solutions.
Education
Web development comes in handy when it comes to building dedicated educational platforms for both web and mobile platforms. Especially now, during e-learning and homeschooling, edtech is on the rise and partnering with a web development agency is a great fit.
Video
Our web development company provides custom software that supports video production and publishing. With users consuming ever-more content, dedicated streaming platforms and web development applications only increase entertainment.
Technology is not enough. Learn about our values
See why our clients say we are one of the best web development agencies they have worked with.
Focus on Communication
We emphasize open communication in all our web projects and foster an internal organisational culture. Constant feedback and direct communication between all the team members and stakeholders of the project are key to success.
Flexible Cooperation Models
When it comes to ways of working with us, we're really flexible. It is us who adapt to your needs, not the other way around. We provide full support of web development IT services, both in time and materials and fixed price models.
Relevant web development experience
We have relevant experience in web development. Our team of web engineers is always happy to share their know-how and lessons learned. We believe that the success of our clients is also our success, and we approach each relationship with a long-term goal in mind and trust.
Transparency and we're-in-this-together approach
Transparency between employees and clients is at the core of each partnership. We share work effects on a daily basis, we plan digital product web development together, and jointly evaluate effects and introduce potential revisions. We often start with a PoC or an MVP to quickly demonstrate value.
Specialization in web application development
We have always been working around web design and development. As one of the top web development companies, we use the most modern technologies and follow web design trends to stay on top of the market. E-commerce development, UI/UX, mobile development, artificial intelligence, IT staff augmentation – we're an A-Z web development company.
How does it feel to work with us?

BROTHERLY.

From the very beginning of the project, we focus on mutual understanding and respect. See what our wonderful business partners say about us.
ASPER BROTHERS worked collaboratively with us throughout our project. The process was really well structured for both non-technical and technical staff and kept us up to date on project progression. It was great to access this much expertise and experience in one place in such a simple way.
The team delivered a great application that's lightweight and fast. We didn't have to waste time pitching ideas back and forth. They built what we requested and added their expertise when applicable.
There are a lot of SEO agencies in the world, but very few have specialized in the deep technical aspects of search engine optimization especially websites built using JavaScript. The ASPER BROTHERS delivered exactly as promised and gave us an actionable performance site audit that will help us improve our core web vitals scores. Awesome team, thanks!
They had an impactful role in lifting our business off the ground. It was a pleasure to work with them. Their company slogan "work like brothers" is true. The owners are both friendly and empathetic.
Their key strength is that they listen, so if we have a problem, ASPER will come back with potential solutions. They are proactive in their way of working with us, and we find it to be a valuable part of our overall team.
Web Development Specialists
At ASPER BROTHERS, we're a fully-fledged web development agency. Our team has got all the necessary skills covered to deliver all sorts of web development projects.
UI/UX Designers
A well-designed, clean user interface and an intuitive UX can be a real game-changer for your business – not only in terms of web app design development. It's a good fit also in terms of digital marketing and strategy for reaching out to clients, social media marketing, email marketing, content marketing and search engine optimisation.
Frontend Web Developer
Frontend web developer in a web development agency focuses on the client-side of each custom software development project. They're responsible for website development (usually with JavaScript, Angular, React or Vue.js) to make users happy when interacting with software solutions.
Backend Web Developer
From the client's business perspective, the web development projects must be designed and developed in a robust, scalable and reliable manner. In a team at web development agencies, that's what backend web developers are for. They use tools like PHP, Laravel and Symfony to build and maintain IT services that work!
DevOps Engineer
When it comes to application development, the best web development companies include a DevOps engineer in their team. Their role is to make IT operations easier and faster by taking care of the deployment side of IT services, for example, by introducing a Continuous Integration/Continuous Delivery strategy during website development.
Quality Assurance Specialists
Custom software development would be nothing without quality and testing. QA's use manual and automated testing methods in order to find and eliminate bugs in web development services, so the website or other software solution are of high quality and simply work.
Project Manager
Every team of web developers working around a web app development needs someone who will oversee the whole project and be responsible for staying on course according to business strategy. That's what project managers are for – making the web development experience seamless from the customer perspective.
Web Development Technologies
a solid dose of knowledge on web technologies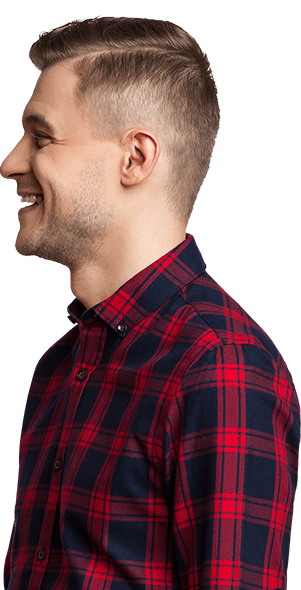 READY
to

SOFTWARE?

If you're still in doubt, we will help you find the answers you need.
Just contact us and let's software together!