We are

SOFTWARE HOUSE

and as COMPANY we believe in

WORDPRESS

technology
We specialize in creating WordPress based websites for small businesses and multinational corporations. Our team is able to use WordPress technology to prepare even the most advanced web services.
WordPress is a commonly available CMS (content management system) for creating web pages. It is the most common platform (currently, 30.7% of the websites in the world are based on WordPress) built on components, which not only define the appearance of pages, but also the properties of configuration items.
WordPress is an exceptionally comprehensive system. It provides various themes and extensions (plug-ins) that alter the functionality of the website. Our PHP developers and MySQL specialists create or modify features of extensions to make sure that the page meets the client's requirements.
Why WordPress?
Why should you choose a website created in WordPress? The main reason is that the majority of features are provided immediately after installation. Basic configuration items are available immediately and website administration is simple and requires no technical knowledge. All the resources necessary for creating and administrating the page, such as texts, multimedia and databases, are stored in one place. You can create content, manage users, change and customize the appearance of websites, integrate multimedia and create forms or photo galleries.
WordPress based websites are safe. WordPress protects against spam, manipulation of comments, loss of databases or content substitutions. Any security gaps are immediately repaired thanks to the worldwide support available for this platform.
Websites are prepared using the Responsive Web Design (RWD) technology, which ensures that they are properly displayed on various devices (PC, tablet, smartphone) and browsers.
WP can do more than you expect
WordPress is a platform with an enormous potential that our company uses to build even the most advanced websites. We can modify templates or create them from scratch. We integrate extensions (plug-ins) and content of the websites of our clients, e.g. a WooCoomerce plug-in to develop websites with advanced e-commerce solutions (including selling virtual products such as eBooks).
We can also provide booking systems, service websites and information portals. We can handle the implementation of advanced and unique features for users. We create professional websites dedicated to any industry.
A WordPress based website may be expanded in a virtually unlimited manner. WordPress is able to maintain efficiency despite significant load such as traffic or a larger amount of content. What is important, is that websites prepared using WordPress may be optimized for queries in search engines (SEO) because individual entries have e.g. fields for tagging information.
WORDPRESS is powerfull CMS
but WordPress in experts hands can do MAGIC
INITIAL DOCUMENTATION AND CONSULTATIONS
The first step involves defining the scope and the purpose of the website – both extremely important to ensuring the validity of the end result. We always begin with this step. Clients often prepare a brief, in which they outline the most important features of their future website or even already define its contents and the look and content of individual webpages.
It's important that such parameters as the website's target audience, its update frequency and the vision of its future growth are also defined at this stage. Therefore, our job during this phase is to obtain all required information from the client. We hold meetings and consultations that result in a complete brief detailing the website.
CONTENT ARCHITECTURE AND BUSINESS MODEL
During this step, we define the website's business model and prepare a map of its content.Thus, it's the stage, where we decide – together with the client – how the content will be displayed and where such elements as company info, product list, a blog or a webstore will be located. We determine text hierarchy and its estimated length for main content elements and together with the client we decide what keywords should be included on the site.
It's at this stage that we develop an overall concept for any multimedia contentand determine the form of its presentation – whether it should be included as an attachment or as a movie embedded directly on the page, or whether chatting with a consultant should be possible in video form or only as text. These decisions determine the choice of development methods, but also influence how the client's administrator will manage the website.
PROTOTYPE
During this stage, we create a prototype for both the visual and administrative aspect of the website. It's really at this stage, that the client first sees the site and its functionality. Of course, at this stage the site has no content (apart from examples), but it usually includes a theme, a menu structure and a location for displaying multimedia content. The site is usually hosted on a test server.
BACKEND DEVELOPMENT
Backend development is a job for our programmers. It's the backend that interacts with the database, handles the business logic and generates all the views that the website's user sees. Of course, since we're using WordPress, all the standard elements have already been implemented, but we still need to build a working, cohesive mechanism tailored to an individual client.
FRONTEND DEVELOPMENT
The development of the layer that's viewed by the person visiting the site. It includes all text and multimedia content but also how the site is displayed on different devices (like smartphones) and in different web browsers.
TESTING
In order to ensure the quality of our web solutions, in addition to stages involving direct communication with the client, where we gather requirements, prepare the site's prototype and decide how to display text and media content, we also have a testing stage. During this step, we not only test the correct functioning of the code and whether the site displays correctly on different browsers and devices. We also test the usability and the user experience of both the site itself and its admin panel. We perform the test ourselves and in cooperation with the client. We also test corner cases and how the web app behaves, for example in case of a web store, we test how the payment module behaves when the input is zero or when no delivery address was provided.
LET'S TALK like BROTHERS
From the first contact to fully developed and working software, we will share info with you to make sure everything is clear at every stage of the project.
Our experience with ASPER has been priceless. The app patched many project management issues by improving document security and minimizing downtime. ASPER's reliance on feedback, jargon-free communication, and transparency contributed to a beneficial partnership.
Consistent updates and their emphasis on taking care of their customers help make ASPER a top-notch vendor. Their communication is excellent and they really immerse themselves in the job.
Replacing a previous vendor, ASPER BROTHERS quickly demonstrated an in-depth working knowledge of the WordPress platform and its features. Maintaining simple and streamlined communication, they execute feature upgrades and resolve issues to continually improve the website. They challenged our assumptions and completed our goals with the quality we sought.
Our WORDPRESS TEAM ready to outsource
Our company employs professionals with years of experience with every stage of website development
Designers
People who can adjust the customer's requirements to WordPress' capabilities and limitations. They're skilled at working with clients and serve as "translators" of the technical language used by programmers. Our designers help ensure the cohesion of the web application.
PHP Developers
PHP is a programming language designed specifically for generating websites and building web applications. Thanks to our PHP developers we're able to build very sophisticated and advanced sites based on WordPress. They're able to take advantage of many of WordPress' advanced capabilities and develop new extensions (plugins) or to modify existing ones.
MySQL Specialists
MySQL developers make sure that the databases that WordPress uses to display the website and its contents work correctly and do not cause problems with loading the site. They also take care of resource optimization in order to avoid problems that may arise with larger sites.
WE HELPED THEM
Behind every software, there's a person and a story
our BLOG posts
a solid dose of knowledge on CMS and WordPress development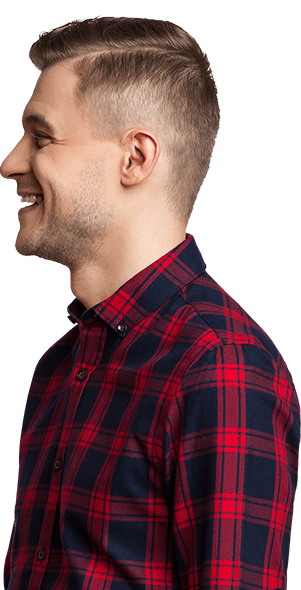 READY
to

SOFTWARE?

If you're still in doubt, we will help you find the answers you need.
Just contact us and let's software together!