PHP Development Services
During more than a decade of coding together, our senior programmers have completed dozens of challenging PHP projects that added value to what our customers do.
That is why we feel strong in tailor-made PHP development. The combination of hands-on experience with the best methodologies and with fostered winning approach allows us to create outstanding results for our clients' businesses. But most importantly, we know how powerful PHP is, and we won't hesitate a second to use it for custom solutions.
PHP Custom Apps
Got an idea? Why not make a product out of it? Let's start with a proof of concept and confront it with early adopters. Or let's go big and create complex, robust solutions that answer market demand. We are the ones that will help you to make it efficiently.
PHP based Ecommerce
Selling online is great but can be even better when based on a solution that is custom. Sure, boxed products have their charm, but if you want to take your eCommerce platform to another level, don't hesitate to optimize it and go bespoke.
Custom CMS Development
We can help you with WordPress or other CMS systems. Perhaps you would like to create a dedicated, tailor-made complex solution to manage your website? Even better. We have what it takes to materialize your ideas and needs into a working world-class CMS system.
CRM & ERP systems
We create solutions for businesses that streamline daily processes and allow you to manage your business more effectively. We start with a thorough understanding of the way the company functions. Thanks to that, applications that we create to respond to real needs.
Free Consultation
We believe that good cooperation must be built on mutual trust. That's why we strongly focus on open communication from the very beginning.
Let's make a short phone or video call, listen to your needs, and advise the best solutions.
Why is

PHP Web Development


right

for your company?
PHP is a super flexible solution that allows you to develop a wide variety of custom software solutions for your business. PHP is great for Content Management Systems, CRM and ERP solutions, e-commerce platforms (such as WooCommerce or Magento), APIs, small and robust desktop apps, or for websites of any size – and for much, much more.
Custom PHP solution is cut for any size
PHP is not only universal and valuable but also superbly scalable. It is used both by small businesses in need of growth and the biggest www companies in the world. Ever heard of Wikipedia, Yahoo, or Facebook, to name a few? They are all thrilled with choosing PHP as it is suitable for solutions of any scale.
Due to its ease of use and flexibility, combined with reliability and security, PHP can be employed to create both swift MVP to prove the value of your ideas, as well as to add additional features to a well-established market solution. Billions of companies worldwide can't be wrong – PHP is the way to go in terms of tailor-made backend development of any size. For a reason!
PHP Apps are valued by business
Thanks to PHP's high scalability and superior performance, it brings tangible benefits for the business. It is lovely as it has no licensing costs and is really easy to implement. Its outstanding compatibility with various other solutions significantly reduces the time and cost of custom software development. Isn't that what you're looking for?
What is more, PHP is very well supported by a helpful and engaged community that provides insights and documentations boosting the development process. As it is one of the most popular languages, it guarantees access to experienced PHP specialists' vast talent pool. And a great deal of them is available at ASPER BROTHERS.
Good got even better with PHP version 7
Hopefully, your company will grow over time. The software you're using now may not be enough for you in the future. Custom software solutions are flexible, developed to answer the needs of your growing business. Custom software is a real investment in the future, designed to keep you advancing.
We are the

PHP SOFTWARE COMPANY


with the

EXPERIENCE

you need
Learn about the history of successful cooperation with companies from around the world.
We use


THE BEST PHP FRAMEWORKS
Laravel
"A PHP Framework for web artisans" is a handy solution to develop cutting-edge custom PHP web apps. Laravel is a modern toolkit that enhances the benefits brought to the table by PHP. It also brings several advantages itself, to mention painless data migration as an example. It's great for larger projects, but it is scalable to your needs.
Symfony
Symfony is more than just a PHP framework. It is a reusable set of PHP libraries and components that facilitate custom development. Thanks to Symfony, we can reduce time and effort put into programming, and therefore minimise your expenses related to your shiny new software solution. We harness Symfony benefits to deliver web apps and websites of all sizes. Give it a shot!
We know


HOW TO TREAT YOUR DATA
MySQL
MySQL is a system of database management based on SQL, dedicated to relational databases. In general, it is used for data storage for web databases. It is the world's number 1 solution and a scalable, powerful, performant, and reliable tool. MySQL is suitable for cloud, web, mobile, and embedded apps.
PostgreSQL
PostgreSQL is a general-purpose database management system for object-relational databases. It is intended to store data securely. During its over 30 years of wide market presence, PostgreSQL has built a strong brand appreciated for robustness, reliability, and scalability.
Why

PHP Software Development


with ASPER team

?

Our dedicated team of the market's best PHP specialists is ready to work for you in Warsaw, Poland. Location just in the heart of Europe is another perk of Asper Brothers, guaranteeing access to a vast talent pool of skilled programmers. Programmers that share your working culture and speak the language of your business.

We use only the best tools and employ methodologies that grant successfully delivered projects. To suit your needs in the most efficient way, we promote Scrum and Agile development. We favor clear terms of cooperation and will assist you with all necessary legal issues.
Be prepared to consult your ideas at every stage of coding – because we will do so! Thanks to this, you will have full control over your project's time, cost, and scope.
How does it feel to work with us?

BROTHERLY.

From the very beginning of the project, we focus on mutual understanding and respect. See what our wonderful business partners say about us.
Consistent updates and their emphasis on taking care of their customers help make ASPER a top-notch vendor. Their communication is excellent and they really immerse themselves in the job.
The team delivered a great application that's lightweight and fast. We didn't have to waste time pitching ideas back and forth. They built what we requested and added their expertise when applicable.
Their key strength is that they listen, so if we have a problem, ASPER will come back with potential solutions. They are proactive in their way of working with us, and we find it to be a valuable part of our overall team.
WEB TECHNOLOGIES –
the tools we use
HTML5
HTML describes what the webpage should look like in a static way using markups rendered by browsers. It is the building block of every web page in the world and the base of frontend development.
JavaScript
"Consultations first" is the approach we promote in terms of development, and it pays off in delivering projects precisely to answer your criteria. We are strong, experienced polish PHP programmers, and we build solutions that work.
CSS
CSS is a language that describes the style of displaying HTML documents, and 3 is its latest evolution. It facilitates and cuts costs of fronted development by controlling multiple web layouts simultaneously.
Bootstrap
Bootstrap is a free and easy-to-use frontend framework enhancing the development of responsive web pages and web apps. It promotes the mobile-first approach and is compatible with all popular web browsers.
MySQL
MySQL is the world's most popular open-source relational database management system. Thanks to its known performance, it is widely used to store and operate on data in the web ecosystem.
Vue.js
Vue.js is a progressive JavaScript framework facilitating the creation of delightful user interfaces on the web. It is a simple yet flexible solution, known as a scalable, adaptable, performant, and versatile tool.
our BLOG posts
a solid dose of knowledge on PHP technology development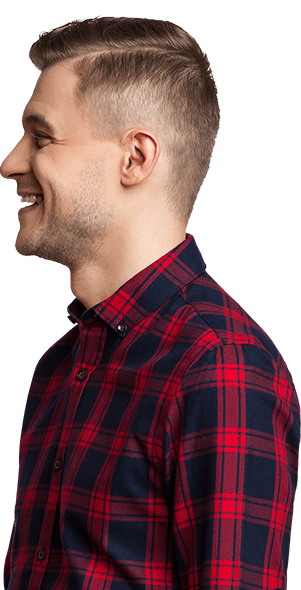 READY
to

SOFTWARE?

If you're still in doubt, we will help you find the answers you need.
Just contact us and let's software together!