Mobile App Development Services
Our skilled development team knows how to translate experience and lessons learned gathered across dozens of mobile app development projects into a comprehensive service offering.
iOS App Development
The process of making mobile applications for Apple devices is no secret to our experienced developers. Be it iPad or iPhone app development – we'll turn your mobile app idea into a working solution that your users will love.
Android App Development
Android is a great space for building engaging mobile apps. We know how to leverage tools like Kotlin, Java, C++ and others to design and deliver a mobile app that will perform great across different Android platforms.
PWA Development
PWA is about making a web application look and perform similarly to a desktop or mobile app and is a very interesting concept indeed. Thanks to this approach, you hit two birds with one stone and tap into the benefits of mobile solutions using web development.
Cross-Platform App Development
We provide dedicated mobile app development across different mobile platforms. This hybrid approach to software development is often a go-to strategy for many businesses that aim to create a mobile solution compatible with all operating systems – both web and mobile.
Free Consultation
We advise not only on the choice of technology but also business issues and strategy related to new software development.
Let's make a short phone or video call, listen to your needs, and advise the best solutions.
Different ways to build your Mobile App
Be it native, cross-platform or PWA – our skilled engineers have what it takes to build your shiny new mobile app.
Native Apps
Native mobile apps are built for specific platforms such as iOS and Android and installed on mobile phones via app stores. They are developed in a specific programming language of each platform and won't work on different devices. Most mobile apps are native as it's a fast, responsive, reliable and functional piece of custom software.
Cross-Platform Apps
If you want to have a mobile app that will work on different platforms and devices and don't want to spend budgets on building for two platforms simultaneously, this approach is just for you. Mobile app developers can leverage different tools and frameworks (such as Flutter or Xamarin) to build cross-platform mobile apps with the reusable codebase and great functionality across platforms.
Progressive Web Apps
PWA is a type of web application that combines the capabilities and reach of web apps with the reliability and installability of native mobile apps. This approach to mobile app development brings together the best of both worlds, delivering a seamless experience and clean UX/UI design while optimising the time and cost of custom software development.
Learn about the history of successful cooperation with companies from around the world.
Mobile Apps Development Process - How We Work
Top mobile app development companies are only as good as their process of code production. With ASPER BROTHERS, there are processes and procedures to ensure smooth and predictable delivery on time and within the budget. Take a look at how we will approach your next mobile app development requirement.
Technical Consultancy
Our custom software development company appreciates that every project is different and requires a relevant approach. That is why we put particular stress on technical and development consultancy that covers business analysis, understanding the business need, choosing the right technology and designing the user interface and architecture.
Prototyping and MVP Development
As with other software solutions, best app development companies always suggest starting with MVP, Proof of Concept or a prototype to quickly verify business assumptions, gather user feedback, improve UX/UI design, test the market and prepare for a fully-fledged mobile app development process.
Mobile App Development
Once the mobile app is designed and ready to be built, a proper mobile development phase kicks in. That's when our mobile app developers do their magic. Regardless if it's an existing mobile app or built from scratch, cross-platform or native for ios and android platforms – our mobile app development company will deliver a solution matching your business needs.
Testing and Quality Assurance
The mobile app development process at ASPER BROTHER also covers aspects related to Testing and Quality Assurance. Our goal is to deliver a mobile app that will be free of bugs and the highest quality to ensure reliable and robust performance, data security and great experience translating into user satisfaction and retention.
Support and Maintenance
Following app development and successful deployment of a custom mobile app, our app developers focus on the phase of support and maintenance. We provide comprehensive services related to fixing newly discovered bugs, reactive development, adding additional features and enhancing user experience.
How does it feel to work with us?

BROTHERLY.

From the very beginning of the project, we focus on mutual understanding and respect. See what our wonderful business partners say about us.
Consistent updates and their emphasis on taking care of their customers help make ASPER a top-notch vendor. Their communication is excellent and they really immerse themselves in the job.
ASPER BROTHERS worked collaboratively with us throughout our project. The process was really well structured for both non-technical and technical staff and kept us up to date on project progression. It was great to access this much expertise and experience in one place in such a simple way.
The team delivered a great application that's lightweight and fast. We didn't have to waste time pitching ideas back and forth. They built what we requested and added their expertise when applicable.
The Industries we cover
Mobile app development is a universal key that works across different verticals. Here's just a shortlist of the industries that already benefit from our mobile expertise. You'll find plenty of these in your app stores!
Ecommerce
E-commerce development means so much more than 'just' mobile shopping apps! Mobile development supports retail by building apps designed to increase conversion and boost purchasing results or offering recommendations. All e-commerce giants base their business on mobile apps since users more often than ever buy on mobile devices.
Healthcare
Recently the pandemic significantly increased the role of technology in providing healthcare services. Nowadays, mobile apps support treatment and diagnosis or facilitate contact with the doctor or a carer daily. Healthcare innovation is based on mobile and wearable app development!
Real Estate
Mobile apps are frequently used in the real estate industry, for example, to explore various neighbourhoods remotely, compare prices of immovables, or facilitate the work of real estate agents and connect them with potential buyers on the market via digital marketing solutions.
Automotive
The automotive industry is undergoing digital transformation, and mobile app development plays a role in this process. Apps are leveraged to control the basic operations related to a car using a mobile device, make travel more convenient, boost car sales, facilitate manufacturing or increase vehicle security.
Fintech
The financial industry is disrupted with technology, and today even enterprise clients benefit from the web and mobile apps. The most popular areas are mobile banking, money transfers, real-time payments, expense tracking, managing invoices, facilitating investments and financial advice or even boosting financial literacy via internet marketing.
Education
Technology is entering the classrooms, and virtual lessons are no longer a novelty. Mobile apps on smartphones and tablets are happily used, not only by kids in the school age. Completing and submitting homework, remote schooling, online courses, mentoring and tutoring, learning new skills – there are no limits to technology.
Why ASPER BROTHERS?
Flexible cooperation models
We're very flexible in the way we work with our partners, and we always try to adapt to their needs, not the other way around. We work on a Fixed Price or Time & Material contract basis, offering both full complex delivery of your mobile app, as well as outsourcing a development team or just single engineers specialising in agile development.
Seamless communication
We believe that trust and transparency are the building blocks of each business partnership. That is why our app developers are very responsive in communication and introduce proven methods of staying in touch that facilitate remote delivery – both on the level of the tools and processes and standards in place at ASPER BROTHERS.
Hands-on experience
ASPER BROTHERS is a one-stop shop for mobile and web apps. During more than 12 years on the market, we supported dozens of companies with our mobile app development services. Our expert team of app developers knows all the ropes of web and mobile development. That includes mobile app design, creating an amazing user experience, smooth delivery of the app, testing and support and maintenance.
Comprehensive know-how
Our combined experience and lessons learned gathered across dozens of delivered IT projects allow us to truly grasp the business need behind each web and mobile app development requirement. We work with startups and mature enterprises, and we appreciate the specificity of each approach, always suggesting a tailor-made solution that is proven to work.
Related technologies of mobile development
Swift
Swift is a robust and intuitive programming language for iOS devices, developed by Apple Inc. This open-source language is known for clean, simple yet expressive syntax, making it easier to write and read. Its conciseness makes it very performant and efficient to use, as it requires less code to perform the same tasks.
Kotlin
Kotlin is cross-platform programming designed to interoperate fully with Java, but type inference allows its syntax to be more concise. It is created for the JVM (Java Virtual Machine) and the Android platform. Kotlin is valued for safety, clarity, interoperability and great support.
Java
Originated in the early 1990s, Java is primarily used for web development. Still, its simplicity and efficiency translate into the mobile world, too, with apps built-in Java running on iOS devices. In both scenarios of a web and mobile app – Java makes it secure, portable, robust and architecture-neutral.
Flutter
Flutter is an open-source software development kit created by Google that's known best for its widgets that introduce powerful UI capabilities. Flutter is used to develop cross-platform web and mobile applications with a single codebase.
Angular
Angular is one of the most popular front-end software development platforms. It is an amazing tool facilitating the development of any mobile app or a custom web solution. Angular is simple to use, fast, efficient and has a great community behind it.
React js
React is a JavaScript framework loved by developers for its scalability, performance and productivity. It is a flexible yet powerful library used to handle the view layer for web and mobile apps and build user interfaces, specifically for single-page applications or PWA.
Vue js
Vue is often leveraged to build a clean user interface and enhance the overall mobile app design. Every mobile app can use Vue and benefit from its features, such as customisation, great documentation, ease of integrations, simplicity and user-friendliness.
a solid dose of knowledge on mobile technologies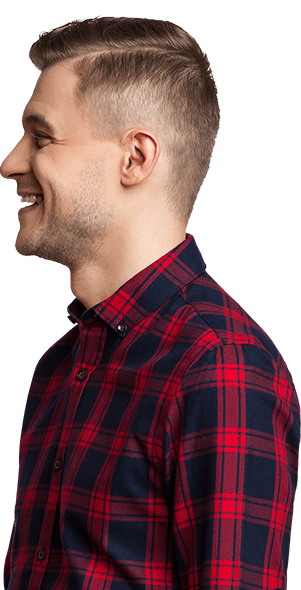 READY
to

SOFTWARE?

If you're still in doubt, we will help you find the answers you need.
Just contact us and let's software together!