QA Software Services
With an end-to-end QA services portfolio, working with ASPER BROTHERS ensures scalable and professional testing services. Tackling challenges such as performance, usability, compatibility, and security always adds tangible business value.
Manual & Automated Testing
Manual tests are performed step by step by QA engineers. As a result of executing tests in an individual manner, it's possible to handle complex testing scenarios. Thanks to coded testing automation frameworks and tools, test coverage improves. Often it turns out that a combination of both automated and manual testing is the best available approach.
Code Review & Audit
Checking up and auditing the code in order to verify its quality, security, and maturity levels is a great way to discover bugs and potential vulnerabilities. As a result of a comprehensive analysis, issues are detected and eliminated. At the same time, overall code quality and maintainability increases as best coding practices are being implemented.
Performance & Security Evaluation
Even the most feature-rich applications will not achieve market success without relevant performance levels.
Same with security, a crucial aspect of every software solution. An app must be immune to attacks and must be designed to protect fragile customer data. Security breaches always mean far-reaching impacts in the form of legal repercussions, customer frustration, and loss of trust.
Usability Testing
At ASPER BROTHERS we take the user-centric approach to testing. Customer experience and therefore sales and brand of the app is heavily affected by the quality of the solution. Users should never wonder how to perform certain actions or struggle to interact with it. Usability Testing based on demographics and use scenarios allow to eliminate frustration, getting rid of navigation mazes and introducing intuitiveness and clarity into UX.
Free Consultation
We believe that good cooperation must be built on mutual trust. That's why we strongly focus on open communication from the very beginning.
Let's make a short phone or video call, listen to your needs, and try to advise the best solutions.
See how we ensure the highest quality
At ASPER BROTHERS QA is a bridge between developers, operations and business. In order to ensure the highest quality of the code we produce and to maintain the standards, we have processes in place that help us identify vulnerabilities before it's too late.
Communication
Constant and open internal and external communication at every stage of the project duration is key to avoid plenty of issues coming from misunderstanding, lack of sharing feedback and miscommunication.
SCRUM
QA engineers are important team members and participate in all SCRUM ceremonies to introduce transparency. Every feature is thoroughly tested prior to any cyclical internal presentations and demos for customers.
Quality Consultancy
A dedicated senior engineer or a technical leader is constantly supporting the analysis of code quality. Moreover, the tech team is consulting with Business Analysts and Product Owners to make sure that features are implemented and properly tested.
Automated Testing
Every chunk of code is undergoing a series of automated tests using industry-leading automation tools based on a standardized and consistent approach. This helps with reducing testing time and improves test coverage.
DevOps
By bringing the DevOps experts with their CI/CD and monitoring skills to the team we make sure that the production environments of the customer will provide exactly the same performance of the application as achieved during development.
The ASPER Quality
Identifying bugs before it's too late saves time and money, introducing effectiveness and customer satisfaction instead. Our skilled team knows how to deliver a reliable, secure, and highly performant application. At ASPER BROTHERS, quality is never just an empty phrase.
Learn about the history of successful cooperation with companies from around the world.
Software testing process at ASPER BROTHERS
The ASPER approach to Quality Assurance and software testing comes out of years of experience in delivering high-quality apps in an Agile way. It is designed to support the goal of identifying and eliminating errors, bugs, and vulnerabilities before it's too late.
Test planning
We start with creating a clear test strategy and a test plan that estimate upcoming test effort and define the scope of testing in a given IT project. It covers functional and nonfunctional testing requirements, test approach, processes to follow, tools to use, documentation to produce, environments to set up, team composition and their responsibilities.
Test design
Having a plan and strategy in place, we proceed with designing the tests themselves. The goal of this process is to establish conditions, cases, and data to test. As a result, QA engineers select test cases, choose the number of tests to perform, and how test cases will be created.
Execution
When it comes to executing tests, we act in an Agile way. At this stage, testers perform the tests according to previously created plans, strategies, and design, in order to detect any errors and vulnerabilities. All tests are documented and bugs are mapped out to keep track of them until they are fixed.
Errors identified by Quality Assurance engineers during the test execution phase are reported to software developers working on the project. The results are put together in a form of documentation that forms the basis for future analysis and supports learning a lesson to avoid making similar mistakes in the future.
Reporting and Recommendations
As a result of the whole process, a test report is created, covering identified errors with a short and simple explanation and screenshots or video documentation where needed. The report is being evaluated and relevant recommendations are put forward on how to eliminate the bugs.
How does it feel to work with us?

BROTHERLY.

From the very beginning of the project, we focus on mutual understanding and respect. See what our wonderful business partners say about us.
Consistent updates and their emphasis on taking care of their customers help make ASPER a top-notch vendor. Their communication is excellent and they really immerse themselves in the job.
Replacing a previous vendor, ASPER BROTHERS quickly demonstrated an in-depth working knowledge of the WordPress platform and its features. Maintaining simple and streamlined communication, they execute feature upgrades and resolve issues to continually improve the website. They challenged our assumptions and completed our goals with the quality we sought.
The team delivered a great application that's lightweight and fast. We didn't have to waste time pitching ideas back and forth. They built what we requested and added their expertise when applicable.
QA and Testing

TOOLS we use
Selenium
When thinking about tools for testing automation, Selenium pops at the top of the list. It's a great open-source tool that automates web apps for testing in an end-to-end way. It not only automates browser testing, but also provides a specific testing language called Selenese to write tests in.
BrowserStack
This high-level Python framework makes coding faster and safer. Thanks to its pragmatic, clean design and feature richness, it's very popular among both frontend and backend developers. Django is easy to scale, that's why it sits behind plenty of modern software solutions.
TestComplete
TestCoplete is a platform for functional automated testing, where specialists can create automated tests for different desktop, web and mobile platforms. With TestComplete, it's easy to run GUI test scenarios in a scalable and robust way to make sure they work as planned.
Katalon Studio
Katalon Studio is an intelligent, all-in-one test automation solution. It's best for larger volumes of tests to perform, as it's really scalable and is known for great efficiency. It sits on top of other open-source automation frameworks, adding the extra value in the form of AI-based analytics.
our BLOG posts
a solid dose of knowledge on software quality assurance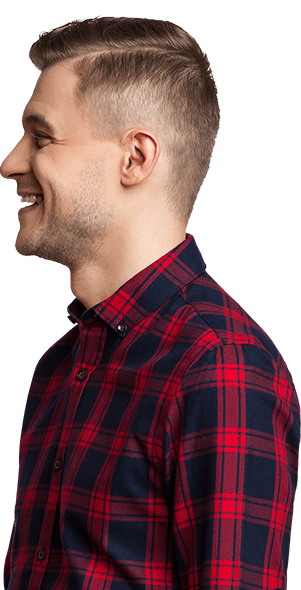 READY
to

SOFTWARE?

If you're still in doubt, we will help you find the answers you need.
Just contact us and let's software together!