The importance of User Experience design
Imagine you download an app or open a webpage. You're looking for a way to log in but can't find this option. A search loop is not available, the design is very poor and the menu is not very intuitive. Quickly you get frustrated and google for another app to do the job, deleting the previous one. Instead of detaining the customer, bad user experience made you abandon the brand.
That is exactly why user experience (UX) and user interface (UI) design are key to the business success of your software. Intuitiveness and attractiveness of the solution are responsible for making users happy and satisfied, which directly translates into better business results – it's as simple as that.
But there's more to it, so let's dive deeper into the world of UX and UI!
UX should be understood as a set of tools, techniques and processes that aim to make sure that the software will answer the needs and expectations of its end users. Through research focused on identifying users' demands, habits and challenges, UX specialists support building the product by designing a prototype and testing its usability.
Creating natural intuition, sparking positive emotions, facilitating usability, increasing effectiveness and designing satisfactory experience of using the software are the core goals of great UX and UI. That's what makes a great user experience – knowledge about expectations and goals of users translated into clear design and useful interface.
Why use the experience of the UI/UX design studio?
On a daily basis, UX and UI designers use a wide selection of tools. Modern ones such as Adobe set, UXPin, Axure RP Pro, Marvel or InVision are as popular as old-school pen and paper.
Let's take an in-depth sneak peek at the most common techniques, step by step:
User research
The goal of the designer is to step into the shoes of the users to understand them, discover who they are, what their goals and challenges are, what are their expectations, what are they trying to accomplish and how can the app help them.
Hence, it's common to conduct interviews and surveys to build the context and create profiles of the users. Then, designers map the customer journey of each profile. Also, analysis and benchmarking against similar software solutions should be the bread and butter of a good designer.
UI Design
When the needs of the customers are well-understood, it's time to adequately design the architecture of the software, so that it's aligned accordingly. Wireframes, high-fidelity clickable mockups and user flows are must-haves at this point.
When it comes to UI, often it's better not to reinvent the wheel. The clear user interface is designed with efficiency in mind, to perform tasks in the app with a minimum number of actions. It's important to comply with branding elements to stay consistent. Logo, styles, typography, colour schemes, components (buttons, forms, lists, panels, menus) – everything must be aligned with the idea of the app and with end-users in mind.
Testing and evaluation
Once the solution is designed, it's time to see if the ideas of the designer would work well with the users. To evaluate it, UX specialists create interactive prototypes. The point is to mimic the appearance of the app, only without the functionality beneath.
Letting real users test prototypes is a way to check if the software is intuitive enough and how easy and convenient the interface is to use. Also, this sort of audit allows seeing if the app is usable and technically feasible to develop. Moreover, it's a method of verification of the design and a way to avoid increased costs related to implementing changes later on.
The benefits of including UX/UI services in software development
A good UX/UI design supports businesses in staying on top of development risks and control
the costs of building software by understanding the needs of users from the very beginning.
Proper UX is beneficial to both users, developers and stakeholders. The most important
benefits related to including these experts in the project are as follows:
Increased sales
The easier the app is to use, the higher its chances of success are. When users are well onboard, find the design and navigation intuitive and quickly pick up how to perform desired actions with minimum steps needed, then they won't abandon it but will continue consuming its content. Same with clear Call-To-Actions, directly translating into increased conversion rates.
Also, stakeholders can enjoy boosts in sales as thanks to the testing stage, it's possible to quickly verify how users interact with the content of the solution and see if they perceive it valuable. Good UI emphasises the most important issues and fosters empathy.
Similarly when it comes to reducing user frustration. When they don't know what to do next or can't find what they're looking for in the clutter, they're likely to delete the app, negatively influencing sales KPIs and ROI. Luckily, identifying and reducing bottlenecks increases retention rate.
More accurate development estimations
When it comes to software development, stakeholders are always concerned about budget and deadlines of delivery. But the more they get into it, they discover that not understanding the market and not answering user needs are important factors, responsible for a vast majority of failures. UX designers minimise possibilities of these, as they listen to end customers and reflect their expectations in the software, basing it on real-life data, not beliefs or gut feelings.
Moreover, thanks to including the prototyping stage in the design process, developers can avoid implementing important structural amendments at the final stage of the project, or even after they go live. As this is time-consuming and expensive, effective prototyping and testing identify areas for improvement early on, thus keeps costs down and increase the overall accuracy of project estimation, helping stakeholders stay on top of budget and time risks.
LET'S TALK like BROTHERS
From the first contact to fully developed and working software, we will share info with you to make sure everything is clear at every stage of the project.
They had an impactful role in lifting our business off the ground. It was a pleasure to work with them. Their company slogan "work like brothers" is true. The owners are both friendly and empathetic.
Their key strength is that they listen, so if we have a problem, ASPER will come back with potential solutions. They are proactive in their way of working with us, and we find it to be a valuable part of our overall team.
It's hard to find an agency with such an optimistic and passionate attitude. We were impressed with their knowledge. It was great that we could totally rely on their expertise and skills. We're really happy with the solutions ASPER recommended and the way they managed the whole project.
Useful skills, great results.
ASPER BROTHERS at your service.
Regardless it's a startup looking for a way to quickly verify it's a business idea, an enterprise with legacy software in need of digital transformation, or a well-established business trying to see if there's anything else for them – everyone can benefit from what UX and UI designers bring to the table. And the earlier they'll think about it, the better.
At Asper Brothers we know how to take into account the user's perspective and include this view when developing software. At the core of what we believe in is delivering usable solutions that bring tangible results. That is why our best practice is to always include UX designers and usability specialists to reduce the risk of creating non-intuitive and disliked apps.
Our UX/UI specialists understand the importance of making software memorable, and that experience is all about how we feel. The synergy of design and technology translating into attractive appearance and robust architecture is what we always focus on, and that's what sets our projects apart.
User experience is an art, focused on making use of gathered insights in compliance with design principles. It's a crucial factor in software success, but unless something goes wrong, you won't hear about it. Let us show you how to enjoy this silence and create software both users and stakeholders will love.
At the end of the day, it's the most important thing, isn't it?
Completed Projects
Behind every software, there's a person and a story
our BLOG posts
a solid dose of knowledge on digital products design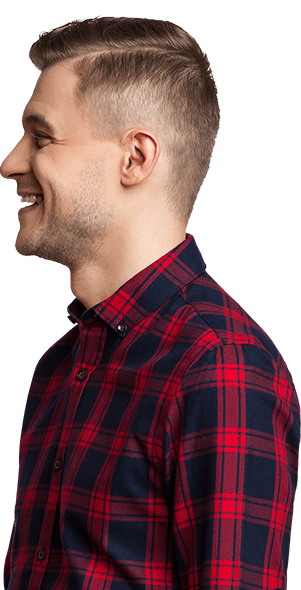 READY
to

SOFTWARE?

If you're still in doubt, we will help you find the answers you need.
Just contact us and let's software together!