Software Development Services
We develop custom software solutions for companies around the world. We specialize in modern web technologies. We create the software from scratch, including the MVP phase, but we also extend existing digital products. We focus on understanding business and technology needs. We are active at every stage of product development. Everything to make the final result a success. A shared success.
Frontend Development
We create a frontend that is functional and stylish. We want the visual layer to work as well as possible and provide the right user experience.
Backend Development
Our talented backend engineers focus on performance and smart application architecture. The solutions we implement are ready to grow and scale. This is an important element for our clients.
MVP Development
We know how to create an MVP to validate a business idea and collect feedback as fast as possible. We have developed a unique model of cooperation, which we have already implemented with many companies.
QA & Testing Services
We believe that you can develop software of the right quality and on time. Our team structure and processes allow us to optimize and test the developed solutions on an ongoing basis.
Free Consultation
We believe that good cooperation must be built on mutual trust. That's why we strongly focus on open communication from the very beginning.
Let's make a short phone or video call, listen to your needs, and advise the best solutions.
After all, there are so many boxed software programs already on the market. Why would you spend time and money to get software tailor-made to suit your needs? The experiences of our customers show that there are many important reasons.
It's personalized
If you're running a small company, you don't need software with many features that are not relevant to you, that you don't need, and that you have to pay for. It would help if you had software that lets you grow your business, not time-consuming. Or maybe you're using different programs to deal with financing, progress reports, and documentation. What if you could have just one intuitive software to streamline all your work? How much time and frustration would it save?
Modify it as you need
With off-the-shelf software, when there is a bug or when some important features are lacking, it may take much time before an update is released. And time is money. Custom software developers react quickly when you communicate a problem or a need to expand functionality.
It scales
Hopefully, your company will grow over time. The software you're using now may not be enough for you in the future. Custom software solutions are flexible, developed to answer the needs of your growing business. Custom software is a real investment in the future, designed to keep you advancing.
Up your security
Boxed software is more likely to become a target of cyber-attacks. It is easier to explore the weaknesses of popular software because it is widely available. Custom software is one-of-a-kind, and breaching security is difficult and discouraging. Securing your data is especially important with the introduction of GDPR.
A team you can rely on
The custom software development process doesn't end with the delivered product. You'll receive support and consulting. There is no risk of your license running out with custom software or a software company discontinuing it, leaving you alone without updates and support. We'll support you every step of the way. Become the owner of new and exciting software created just for you. Help your business run smoothly.
Learn about the history of successful cooperation with companies from around the world.
Trust and Communication.
Inside the Team and with Business Partners.
A decade of coding together is more than enough to gather experience and foster a software development house's customer-focused atmosphere. It does not matter whether we cooperate in the outsourcing model or work in a common office. We always give you the best of our abilities. And these are really big.
We favor a confidential, transparent and efficient development process based on mutual understanding and sharing a common goal.
Tell us about your project. We dig deep to build a clear understanding of your business and the challenges it needs to overcome.
Hands-on experience tells us that putting the spotlight on proper consultations at a very early stage of the project really pays off at the end of the day and avoids troubles with technology.
Thanks to conscious technical advisory and a lack of corporate constraints, we deliver cutting-edge and tailor-made software solutions just in the time and budget you expect.
PARTNERSHIP
and

TRANSPARENCY

at every stage
Analysis and planning
A common misconception is that coding is the most important part of the software development process. Nothing further from the truth! It is the planning stage that decides whether the final solution actually meets the requirements of the stakeholders.
It is crucial to determine answers to questions such as who will use the software, how they will do it, what is the purpose of the software, what are the expectations and actual needs of the stakeholders.
To plan the software, we need to deeply understand your business and involve you in the process via several interviews or consultations.
Design & Development
Since the guidelines for the software's main functionalities are clearly defined, it's high time for a flawless development kick-off.
During the coding stage, the actual production of software takes place. To facilitate this process and ensure meeting stakeholders' criteria, we build the software in small increments. Don't forget that communication is crucial! It is key to facilitate gathering feedback and to make sure the project is on the right track.
QA & Testing
The quality of the software is more important than you may think. Before the code is deployed, we need to test it to identify and eliminate any possible bugs or errors. That is why the code undergoes several testing phases.
This stage aims to ensure the software we built actually solves addressed needs and answers requirements. A holistic approach to testing comes in handy in uncovering not obvious issues and delivering solutions that work. Remember, quality first!
Launching
Eventually, your shiny new custom software is ready! A step-by-step implementation plan and user training are necessary to ensure smooth use in the future.
We treat our clients like members of the family, so don't worry – we won't just build and run. We are there to make sure it suits you and is helping you create a business advantage.
How does it feel to work with us?

BROTHERLY.

From the very beginning of the project, we focus on mutual understanding and respect. See what our wonderful business partners say about us.
The team delivered a great application that's lightweight and fast. We didn't have to waste time pitching ideas back and forth. They built what we requested and added their expertise when applicable.
They had an impactful role in lifting our business off the ground. It was a pleasure to work with them. Their company slogan "work like brothers" is true. The owners are both friendly and empathetic.
Consistent updates and their emphasis on taking care of their customers help make ASPER a top-notch vendor. Their communication is excellent and they really immerse themselves in the job.
TECHNOLOGIES –
the tools we use
our BLOG posts
a solid dose of knowledge on software development
SCRUM
method because it

WORKS
Our 10 years of experience have shown us that SCRUM allows us to develop software quickly and effectively. But this is only the way to proceed – the most important is to involve both sides.
SCRUM constitutes the management of the manufacturing process used to develop software in IT projects. It is one of the so-called agile methodologies, meaning effective methods of approaching difficult problems with adapting software and implementing the clients' requirements.
SCRUM does not impose specific practices or software development techniques. It has been created from a minimal set of roles, terms, and steps to be taken. The main term is "sprint," meaning a stage lasting not longer than 30 days during which a fully functional version of the software planned in a given sprint is provided.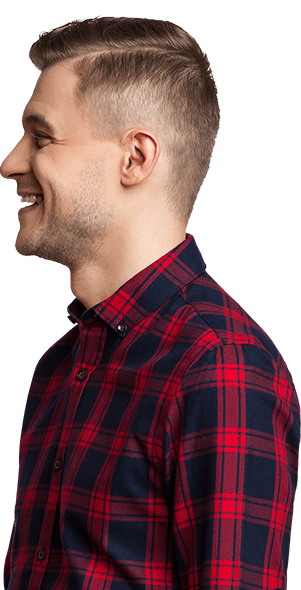 READY
to

SOFTWARE?

If you're still in doubt, we will help you find the answers you need.
Just contact us and let's software together!