Flask Development Services
Flask is the second most popular framework among Python developers. It allows them to build web applications meeting the needs of all kinds of clients across different industries.
Flask Web App Development
Are you in need of a website or a web app? Flask web development is your perfect choice. Join hands with the right Flask development company and enjoy your new web solution in no time.
Flask Ecommerce Development
For e-commerce businesses having a web app is a must. With Flask, the journey from idea to the ready-made product is cut to the minimum. Start building now, and your clients will be able to make use of the new app in a flash.
Flask Migration & API
There is no need to rewrite your business app from scratch to make use of the latest technology. Our programmers know how to join the old code with the new one with the help of elegant APIs. And if you decide to migrate your data, we'll guarantee the process is secure and successful.
Flask Support & Maintenance
Complex business problems are not solved with quick fixes. Custom software requires support and maintenance on an ongoing basis. Our Flask developers know how to make sure your software is always up and running, ready to support your business needs.
Free Consultation
We advise not only on the choice of technology but also business issues and strategies related to new software development.
Let's make a short phone or video call, listen to your needs, and advise the best solutions.
The Benefits of Using Flask
Flask is a micro web framework that's valued for its many benefits. Its simplicity and high performance make it a technology of choice for many Python developers.
High Performance and Simplicity of Implementation
In web development performance is an essential success factor. Web application needs to be as fast and lightweight as possible. Flask website development allows developers to achieve this easily. They can focus their innovative minds on delivering value, and Flask does the technical heavy lifting for them.
A Wide Choice of Extensions for the Desired Function
Flask comes with a lot of extensions for most used functions. To build applications with Flask, developers don't have to write features from scratch; they can rely on proven solutions. Every Flask developer can depend on the collective experience of the entire community, which speeds up the software development process.
Integrated Support for Unit Testing
Integrated support for unit testing is another feature designed to speed up Flask development. Accessible unit testing tools provide Flask developers with instant feedback about the code they create. In this way, the entire team can move faster using the time to code features rather than searching for and fixing bugs.
Easy to Use
Python developers claim that Flask is very easy to learn and use. Consequently, the market is full of engineers willing to give it a try. Flask development company is safe from facing the lack of specialists available for new projects. Flask solutions will always have people able to support and maintain them.
Our Cooperation Models
As a Flask development company, we strive to be as flexible as the tools we use. Hence we offer our clients multiple cooperation models to best suit their needs and projects.
Staff Augmentation
Custom software development is not a linear process. There are times when things get complicated, and any extra pair of hands is appreciated. For such situations, we offer our staff augmentation services. Our skilled Flask developers are ready to hop in on any project and use their vast experience and expertise to benefit the client and their customers.
Projects Outsourcing
Project outsourcing is the easiest way for a non-technical company to approach software development. Whether you are after digital transformation or dream of creating a web solution, our Flask development services are here to help you. Focus on your business goals and let us take care of software development. With a clear objective at your end and an experienced team on ours we are bound to succeed.
Dedicated Team
A dedicated team is a solution for clients ready to invest some time and effort into their app development. A significant part of work lies on our side, but what we deliver are solely Flask development services. The entire project management lies on the client's side. However, our Flask developers are battle-tested engineers, and we are confident they can deliver value wherever they work.
Learn about the history of successful cooperation with companies from around the world.
How does it feel to work with us?

BROTHERLY.

From the very beginning of the project, we focus on mutual understanding and respect.
See what our wonderful business partners say about us.
Consistent updates and their emphasis on taking care of their customers help make ASPER a top-notch vendor. Their communication is excellent and they really immerse themselves in the job.
They've delivered everything they've promised and the work has been perfect. I've never worked with such a reliable team, so we're satisfied. They're reliable, proactive, and eager to produce quality code. When they make mistakes, they're honest. There have been several times where they point out suggestions for us to follow.
They had an impactful role in lifting our business off the ground. It was a pleasure to work with them. Their company slogan "work like brothers" is true. The owners are both friendly and empathetic.
Flask Applications We Build
We provide Flask development services for different purposes. We are happy to be a part of any promising business plan, from creating a user-friendly bot to programming convenient booking systems. Our Flask development expertise is at your service.
Machine Learning Models
Machine learning has infinite potential, and it no longer belongs to research projects only. Artificial intelligence-based technologies are booming, and with the overall digitalization of daily life, they aren't expected to stop. We are happy to offer our Flask development services to help you build an innovative solution for your customers.
E-commerce Systems
Everyone shops on the internet. Recent years show unprecedented growth in e-commerce solutions. Having a web application or mobile app is a must for businesses that want to keep up with their clients. With Flask, such a solution can be created almost instantly, giving you access to all the possibilities available online.
Bots
Bots are playing a growing role on different platforms. Customers want immediate contact, and bots are a perfect solution to this issue. Our Flask development services can help you integrate bots into your app or platform to provide yet another convenience for your website visitors.
Social Media Apps
Social media are playing a massive role in modern society. However, more and more people are noticing the effects they have on their lives. The right API development can help solve this issue by providing a new quality social media app. This concept is still waiting to be explored.
Booking Systems
Booking systems is another kind of Flask application likely to take the market by storm. The right technology can help improve clients' experience in many industries. Mobile apps for booking all kinds of appointments are immensely popular, which means there is plenty of room for more.
Streaming Services
Streaming services are another popular kind of web application. A fixed price gives users access to all types of content. With market leaders staying way ahead of the competition, there is still plenty of room for niche players. The streaming platform is a perfect environment to make use of the Flask framework.
Why ASPER BROTHERS?
Experience in Python-Based Solutions
To call ourselves snake whisperers would be a little cheesy, but rest assured, we know Python inside out. We know how to take advantage of its best features for custom software development, but we know equally well how to handle its limitations. We have full-stack developers working with Django, yet when in need of a lightweight app, we prefer to work in Flask.
Excellent Communication with All Team Members
We believe that technology is not the most critical component of the software development process. What is then? Communication. That's why we are so proud of our developers, who mastered the challenge of keeping all stakeholders informed at every stage of the projects. In Asper Brothers, we know that web development is a team game.
Experienced Managers With Client-Centered Approach
Customers are not always right, especially when they don't know their way around the software. Yet, customers have to be happy. Clients who decide to join hands with us to develop their web applications can fully rely on our consistent track record in delivering value. At Asper Brothers, managers are ready to go the extra mile to give the client what they need.
Technologies Related to Flask
a solid dose of knowledge on digital products development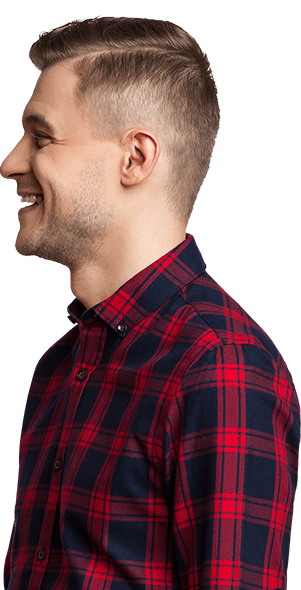 READY
to

SOFTWARE?

If you're still in doubt, we will help you find the answers you need.
Just contact us and let's software together!