Internet of Things Development Services
Internet of things (IoT) development services consists of several layers. There are connected devices themselves, and then there are applications for the users, IoT platforms that integrate, store, and process data. And finally, there are third-party integrations and APIs that tremendously increase devices' functionality. Top IoT development companies are well aware of this complexity.
IoT Platform Development
IoT platforms are the foundation of the entire IoT revolution. Even such novel solutions as wearables and smart devices rely on software development. Well-designed backend – an IoT platform – plays a huge role in device performance and customer satisfaction.
IoT App Development
IoT app development is another critical factor for customer satisfaction. As apps are responsible for the user interaction with the device, they need to be fast, responsive, and provide exceptional UX. No smart solution is complete without the mobile app.
IoT API & Integrations
Completing an IoT solution with an API and third-party integrations is a massive boost for its usability. Sensors that can be used with multiple platforms, healthcare devices with versatile use – those are products bound to succeed on the market.
IoT Support & Maintenance
As an IoT development company, we know that no software project is ever complete. With our support and maintenance services, you can be sure the downtime will be reduced to the absolute minimum, and customers will always be able to rely on your solution.
Free Consultation
We advise not only on the choice of technology but also business issues and strategies related to new software development.
Let's make a short phone or video call, listen to your needs, and advise the best solutions.
The IoT Solution Implementation Process
We believe that every IoT development consultancy should be straight about their internet of things development process. We are confident in ours, and we want our customers to know what they can expect. That's why we prepared this short guide to the stages of building and implementing an IoT solution.
Business Analysis
Every custom software development starts from the business analysis. We need to know your pain points, business goals, and ideas so that our experienced IoT app consultants can suggest the right IoT development solution. We want our IoT systems to address existing issues in the best possible ways.
Prototype Design
Prototypes are designed to test all the business assumptions and implement necessary changes. Is it really what our client wanted, or shall we go in another direction? World-class IoT solutions aren't built in one day. They require a lot of testing and redesigning. There is no IoT development technology that lets anyone skip this step.
Software Development
IoT devices are only as good as the software that goes with them. That's why when it comes to the internet of things development services, software development is crucial. Our IoT developers know how to provide state-of-the-art mobile solutions as well as web applications. At Asper Brothers, we proudly call ourselves an IoT software development company.
Integrations
In IoT development, integrations play a tremendous role. IoT devices that are able to cooperate with multiple platforms and different software solutions are far more attractive to end-users. That's why our IoT development team pays special attention to API development and integrations to increase the end user's satisfaction.
Testing
At Asper Brothers, we firmly believe that testing is a critical part of providing software development services. It doesn't matter if we are talking about wearable app development, web development, or mobile app development – every piece of software needs thorough testing.
Support
Finally, when the prototype is aligned with IoT development-related requirements, all IoT apps and software are ready, integrations are in place, and everything seems to be working just fine; the development phase is over. It's time for support, maintenance, and new features. Our dedicated development team has a proven track record in taking care of the software we've built.
Our Cooperation Models
As an internet of things development company, we offer our clients three flexible models of cooperation to allow them to suit our technology solutions and expertise to their needs. We can take care of any step or steps of the project that may need our assistance.
Staff Augmentation
Staff augmentation services allow our clients to seamlessly scale their teams whenever necessary. In this model, our IoT developers join the client's team and work with the client's project manager to speed up the IoT implementation. Our engineers are able to hop on the project almost instantly and provide exceptional development services from day one.
Projects Outsourcing
Projects outsourcing is our most comprehensive IoT development offer. In this model, we gather requirements and provide full-cycle software development. Our IoT development team works with an internal project manager who reports directly to the client (the managing director is often our contact.) When working this way, we prefer to be treated as a business consulting partner rather than just an IoT development agency.
Dedicated Team
As a software development company, we are able to provide our clients with dedicated development teams for their IoT projects. Our skilled engineers are capable of working on any kind of internet of things solutions – from industrial IoT solutions to e-commerce development and voice-enabled technology solutions. IoT systems are what we do.
Learn about the history of successful cooperation with companies from around the world.
How does it feel to work with us?

BROTHERLY.

From the very beginning of the project, we focus on mutual understanding and respect.
See what our wonderful business partners say about us.
Consistent updates and their emphasis on taking care of their customers help make ASPER a top-notch vendor. Their communication is excellent and they really immerse themselves in the job.
They've delivered everything they've promised and the work has been perfect. I've never worked with such a reliable team, so we're satisfied. They're reliable, proactive, and eager to produce quality code. When they make mistakes, they're honest. There have been several times where they point out suggestions for us to follow.
They had an impactful role in lifting our business off the ground. It was a pleasure to work with them. Their company slogan "work like brothers" is true. The owners are both friendly and empathetic.
Internet of Things (IoT) Solutions Can Be Used For:
IoT development can be used for many purposes. From smartening up home and office to providing modern remote healthcare for those in need. Data analytics combined with the right sensors provide insights invaluable in manufacturing and e-commerce.
Smart Home & Workplace
IoT devices for home and office are among the most popular IoT solutions. Mobile apps enabling users to remotely control their smart home appliances are familiar to everyone. Their popularity allowed them to be offered in a wide range even with the very competitive pricing.
Manufacturing
In manufacturing, IoT devices can be used to gather data about the most critical processes. That data can later be used for optimization. Cloud computing is much more important than web development or an intuitive mobile app in such a case.
Automotive
The automotive industry is another example of an industry that wasn't associated with software development services. Still, the emergence of IoT solutions opened entirely new possibilities. The cars might not be autonomous just yet, but they sure are smart.
Smart Digital Assistants
The market for voice-operated smart digital assistants is booming. Voice interfaces proved to be of help to all sorts of users, from busy business people who value every second of their time to the elderly who finally felt the technology got the human touch.
Healthcare
Healthcare is one of the most promising industries for IoT solutions. IoT devices coupled with the right IoT web or mobile apps can revolutionize the way we think about medicine. Prescriptions for wearables? That might be the future.
Ecommerce
The 2020 pandemic caused e-commerce to bloom. The adoption of IoT solutions along with the growing trend for self-service is likely to help it grow even faster. IoT devices, mobile apps, and personalized web apps are likely to be the future of shopping. Ou IoT app development team is ready to take your e-commerce solution to a new level.
Why ASPER BROTHERS?
Versatile Expertise
In IoT development companies, versatility is key. The entire concept of building an IoT platform is based on integrating multiple data sources and different technologies. Our IoT development team consists of specialists from various fields. We have IoT mobile app programmers, artificial intelligence specialists, engineers familiar with firmware development, etc. We offer comprehensive IoT development solutions (API development solutions, mobile development, application development, enterprise app modernization, IoT mobile app development).
The Culture of Communication
At Asper Brothers, we believe that good communication is essential for a software development company (particularly for a custom IoT development company). This is especially true for custom software development, where the development solutions have to match the requirements perfectly. That's why we pride ourselves on creating and nurturing the culture of open communication so that everyone is always on the same page.
Flexible Cooperation Models
There are no two identical IoT software development projects. Development resources, web apps written, technologies used – all have to be suited to the particular problem. This is especially true for the internet of things (IoT) related projects. With this in mind as an IoT app development company, we offer flexible cooperation models to suit the varying requirements of different clients.
a solid dose of knowledge on modern technologies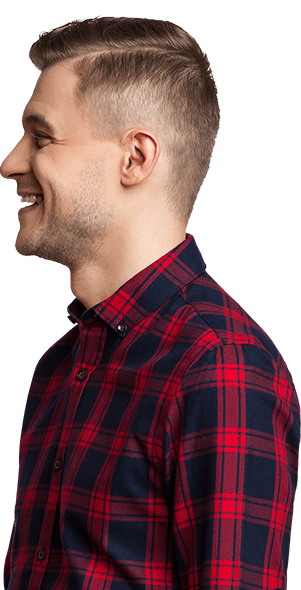 READY
to

SOFTWARE?

If you're still in doubt, we will help you find the answers you need.
Just contact us and let's software together!