React Native Development Services
In the hands of our experienced React Native developers, this framework can be a robust tech tool. Just take a look at what software solutions can we do with this technology.
Cross-Platform App Development
Building one mobile application that is simultaneously compatible with different operating systems or platforms (be it Android, iOS or Windows) is a very lucrative concept from the business perspective. That's what React Native brings to the table – code once, use on all platforms.
MVP App Development
Sometimes you have to eat the elephant one bite at a time, and here's when MVP comes in handy. The concept of developing a Minimum Viable Product allows gathering the maximum amount of relevant feedback from the market with minimal effort. React Native is an efficient technology that empowers quick iterating.
API & Migrations
React Native is an excellent platform for building APIs. Since it exposes JavaScript for different platform APIs, it is easy to make API calls that enable interaction between various tools and systems. Like migrating one solution to another after an iOS or Android system upgrade, React Native is a piece of cake!
Support & Maintenance
Design and development of a React Native mobile application is one thing, but supporting and maintenance of a working solution is a whole different story. Stakeholders require ongoing bug fixing and introducing new features according to market indications, and ASPER BROTHERS deliver all that and much more.
Free Consultation
We advise not only on the choice of technology but also business issues and strategies related to new software development.
Let's make a short phone or video call, listen to your needs, and advise the best solutions.
Business benefits of using React Native
The true value of each technology is measured with tangible business outcomes it allows the stakeholders to tap into. With React Native app development, ROI is guaranteed. Take a look at why!
Faster Development and Cost-Savings
React Native development of mobile apps allows solutions providers to build one solution in the form of a native application that works on different mobile platforms. That means an expert engineering team can speed up the whole development process without compromising the code quality and decreasing development time significantly.
Flexibility and Efficiency
Since React Native leverages the same codebase for building apps working on different mobile platforms, bringing enormous efficiency to the development process. Thanks to that, your business idea can receive positive feedback from the market faster. Not to mention how flexible this framework is from the perspective of a dedicated team delivering React Native development services!
Cross-Platform Mobile App Development
Without React Native, you'd be doomed to find more than one mobile app development company or a consulting firm with extensive experience to build one app to work on multiple platforms and mobile devices. Luckily, with React's native components enabling building cross-platform apps, you can forget about bothering about iOS and Android apps and go for one mobile app.
Large and Enthusiastic Community
Native application development is an exciting concept that is found attractive by plenty of mobile app developers worldwide. This trend results in a big enough community of peers who are always happy to share their insights and lessons from React Native app development. Nothing like tapping into a know-how base!
Learn about the history of successful cooperation with companies from around the world.
How does it feel to work with us?

BROTHERLY.

From the very beginning of the project, we focus on mutual understanding and respect.
See what our wonderful business partners say about us.
Consistent updates and their emphasis on taking care of their customers help make ASPER a top-notch vendor. Their communication is excellent and they really immerse themselves in the job.
ASPER BROTHERS worked collaboratively with us throughout our project. The process was really well structured for both non-technical and technical staff and kept us up to date on project progression. It was great to access this much expertise and experience in one place in such a simple way.
They had an impactful role in lifting our business off the ground. It was a pleasure to work with them. Their company slogan "work like brothers" is true. The owners are both friendly and empathetic.
Industries that benefit from React Native Development
Companies of different sizes, geography and industry, do benefit at scale with flexibility, efficiency, and cross-platform development React Native brings to the table. Here are just some of the examples.
Why ASPER BROTHERS?
Flexible cooperation models
Our goal is to adapt to your needs, not the other way around. That is why we're flexible when it comes to app development cooperation models. Be it a complete, A-Z tailor-made solution or perhaps a more straightforward staff augmentation approach – we're here to do the job just the way you need us.
Trustworthy support on every stage of your IT project
ASPER BROTHERS lead you by the hand through the whole software development lifecycle. We deliver top-notch custom software development services that include design, architecture, delivery and support. Our mobile app developers and experienced project managers can do their magic both with an existing app and mobile development from scratch.
Relevant experience in mobile development
We've been in web development and mobile app development for over 12 years, and that's long enough to deliver hundreds of projects of different scales and specificity. It allows us to be a truly experienced React Native development company as we know all the ropes. Let us leverage that experience to your benefit, and you can do your job with peace in mind.
Open communication and cooperation based on trust
At the end of the day, there are flesh and blood humans behind all the digital solutions. Choosing a partner to deliver your React Native applications is all about partnering with someone you can trust and understand daily, leveraging emerging technologies and having just fun along the way.
a solid dose of knowledge on mobile app development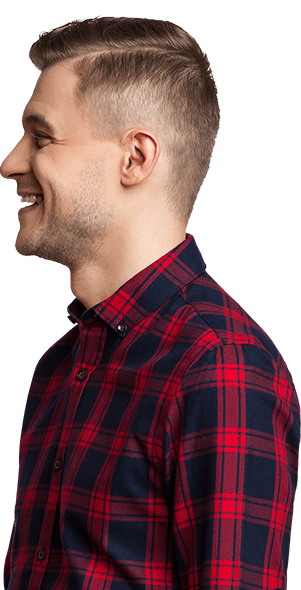 READY
to

SOFTWARE?

If you're still in doubt, we will help you find the answers you need.
Just contact us and let's software together!